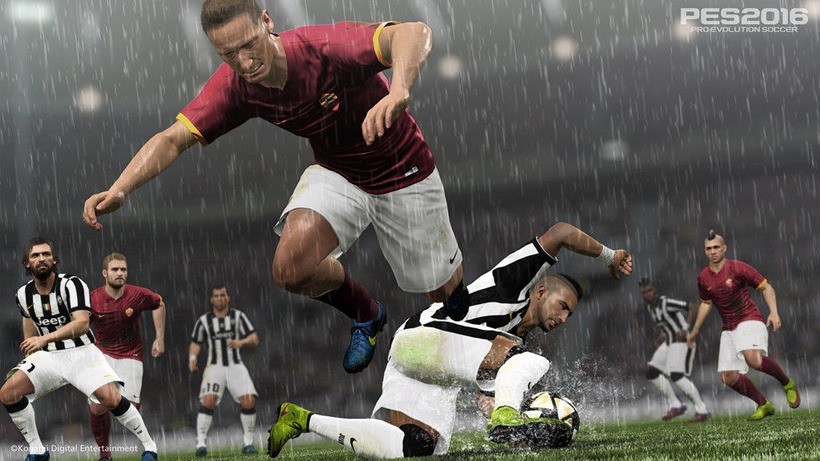 A free to play version of Konami's hit foot on ball game Pro Evolution Soccer? Bah! Flimshaw! Anachronisms! That's what the masses were shouting a couple of weeks ago, because clearly Konami would never ever consider such a business scheme. Right? Hang on, my Metal Gear Solid V base has solicitors at the door, who want to sell me on some insurance…
Yessir, it looks like Pro Evolution Soccer will be going free to play. Sort of. Konami's PES 2016 will be available in a new addition according to IGN, that the company refers to as an "entry level" edition for PS4 and PS3. The PES 2016 entry level edition will ship with an exhibition mode and seven teams to choose from that includes Bayern Munich, Juventus, AS Roma, Brazil and France.
There'll also be a full training section and access to the MyClub feature. Konami also says that the free-to-play version of PES 2016 will be "compatible with all future gameplay and content updates throughout the entire PES 2016 season". Players will also be able to make use of "points acquired through success in matches or with MyClub coins," which is where I'm guessing that Konami will see the bulk of their profits from with this mode when it goes live on December 8.
PES 2016 hit the pitch back in September. Alessandro apparently loved it, saying that PES 2016 "trades authenticity for fun in most facets of its design, but it's a decision that ultimately pays off. What you'll get is a fast, tightly-designed football experience that isn't matched yet anywhere else. EA needs to start taking some notes."
Doesn't sound too bad for an interactive demo then.
Last Updated: November 27, 2015