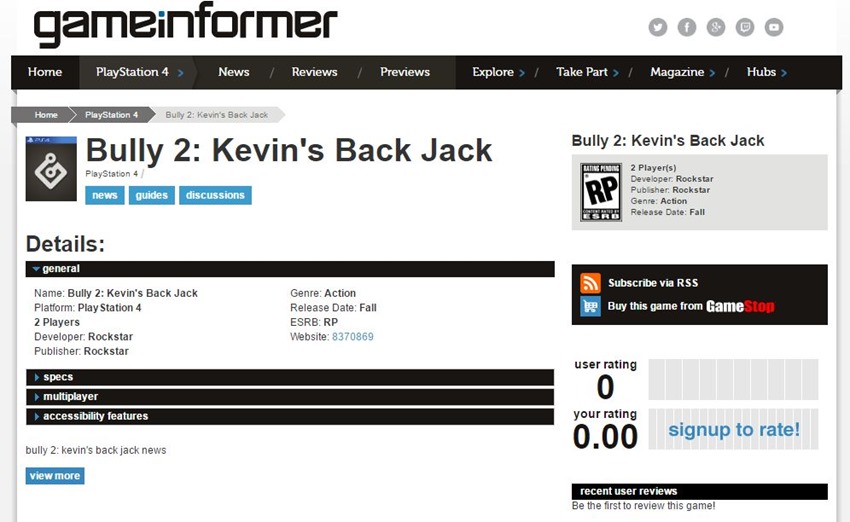 Rockstar's mostly known for Grand Theft Auto and Red Dead Redemption these days, but it's one of their other games that's nearer and dearer to my heart. Bully, or Canis Canem Edit if you prefer, was a game in the same sort of vein that featured teenage troublemaker Jimmy Hopkins dealing with the trials and tribulations of boarding school life.
There have been calls for a sequel for years, with Rockstar seemingly unwilling to revisit the Bullworth Academy or its characters. A listing, swiftly yanked from Game Informer, suggested that a sequel was imminent.
Bully 2: Kevin's Back Jack was briefly listed on the game and magazine's website, with PlayStation 4 as the platform. It was listed for a "Fall" release, which would have put it in the same window as Red Dead Redemption 2 before that game got delayed (to the surprise of nobody). Given Game Informer's ties to retail arm GameStop, they usually are privy to that sort of information – so there could be some truth to this. That said, GameInformer took to Twitter to disavow any knowledge of an upcoming sequel, saying that the listing was an error. That I t could be, but it seems oddly specific.
You might be seeing reports we have reported Bully 2 exists. This is in error. We have not heard anything about a sequel to Bully.

— Game Informer (@gameinformer) June 8, 2017
Could we see a sequel at some sort of large gaming expo, like the one coming up next week? Let's hope so.
Need more E3 in your life?
Check out our E3 2017 portal powered by Megarom Games and PlayStation
Last Updated: June 8, 2017