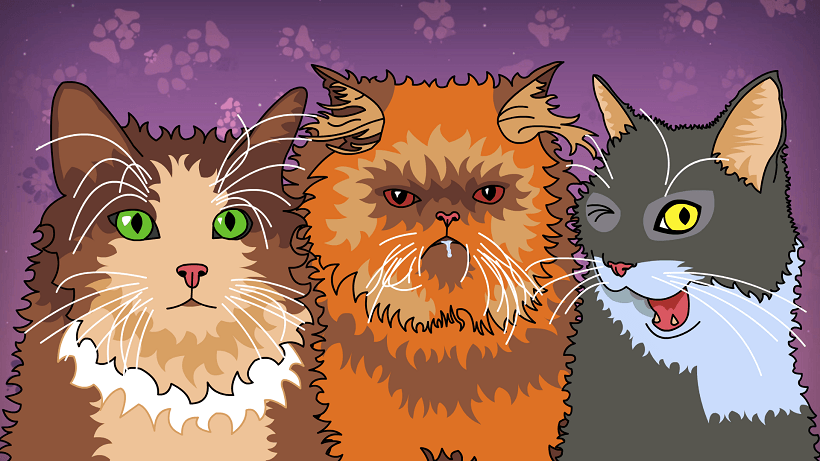 Everybody who knows me, knows that I absolutely adore my two kitties, Lupin and Luna. Hell, I love cats in general, but I do know that there's a very fine line separating "kitty lover" from "crazy batshit crazy old cat person". Look, I won't even pretend that I don't border on the latter. I just can't resist ok? The fuzzy buggers are too darned cute!
Be that as it may, even I, Matthew "cabbage and kitty lover" Figueira, find the idea of a cat dating simulator absolutely ridiculous. Then again, we live in a world that has titles like Hatoful Boyfriend – a pigeon dating simulator. What's going to stop a game with a similar concept (replacing birds with cats instead) from existing in the first place? Nothing, which is why Purrfect Date: Cat Island is actually a thing.
It's not out just yet, but its makers, Oliver Hindle and his girlfriend Ruby, are looking for your vote over on Steam Greenlight. Here's the premise (via VG247).
Feline lonely? Well look no further! We have a whole island populated entirely (well, mostly) by single cats for you to purruse. We have cats for all types people, regardless of whether you're male, female, gender-neutral or undecided.

As a budding young scientist at a research facility on Cat Island, you have the opportunity to seduce up to six, yes, as many as SIX, cats! Now you may be asking yourself, "Is this not an entirely disgusting, perverted, thinly veiled bestial cash grab as well as grossly unprofessional?" I don't know! You'll have to vote for the game to find out.
Yeah, I don't know if I would play that personally. If the idea of Purrfect Date interests you however, be sure to go give it a vote. It's garnered some attention already, and I have a feeling that it might just get an official release on Steam at some point.
Last Updated: February 2, 2016