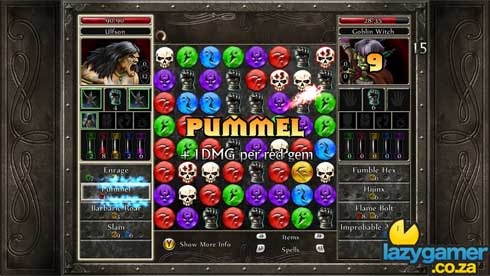 Puzzle Quest, the insanely addictive and unlikely RPG/Bejeweled hybrid was hit with critics and gamers alike, making its way to just about every gaming platform imaginable. Having played through the game on more than one of them, it's safe to say I'm quite a fan. The game's follow-up, Puzzle Quest : Galactrix didn't fare quite as well, with its space-bound gameplay confusing and alienating Puzzle Quest fans. Also, it was rubbish.
Thankfully Infinite interactive have gone back to the series' roots with an announced sequel – And it promises to be much more like the original, just with new features and additions. Players will be able to select and play as one of four classes: War Mage, Inquisitor, Barbarian or Assassin, each with their own strengths and weaknesses. Whatever – Sign me up.
The game has only been announced for a Spring 2010 release on the 360 and the DS for now – but if the first is an indication, it'll be available on everything from fancy microwave ovens to pocket calculators soon.
Source : 1up
Last Updated: December 1, 2009