PAX East revealed a number of details about Quake Champions this past weekend including a free-play zone for journalists and expo-goers to have their chance at trying out the new game. It's understandable that Quake was a huge hit this past weekend, but what hit harder was the announcement from id Software during an interview with Polygon regarding the game's business model. To quote, Quake Champions is "at its core, it's a free-to-play game." We all know what this means, unfortunately.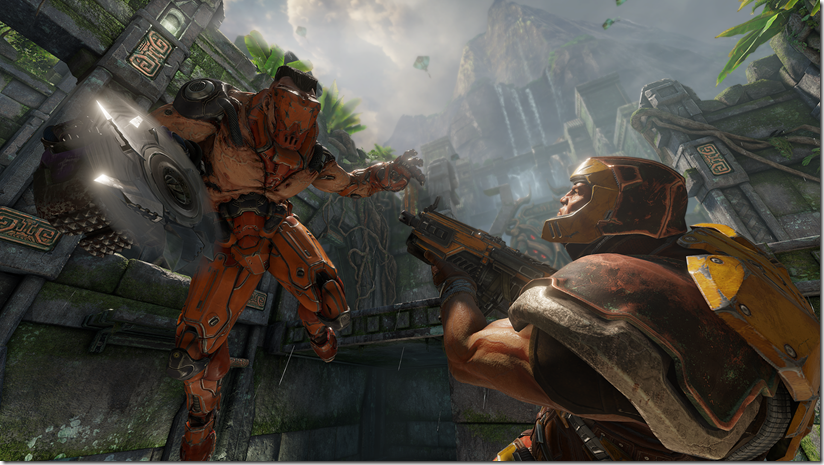 If you don't know what this means, id Software explained in the interview that a "Champion Pack" will be available for purchase which will include every Champion unlocked, while the free version of the game will have in-game currency allowing you to buy Champions, similar to League of Legends, Heroes of the Storm, Smite, and others.
"At its core, it's a free-to-play game, with the option to buy the Champion Pack and just get in and play with all the Champions," said id' creative director, Tim Willits. " There are a number of Quake players that just want to play their Quake, right? And they are familiar with the business model of our previous games, and they are totally fine. 'I want to buy the game. I want to start playing. I want to have access to all the Champions.'"
Quake Champions will differ from other F2P models with who opt for the free version being awarded one character, the Ranger. They'll have to unlock the rest. There wasn't any clarification on a weekly rotation, like other successful titles, but all game modes and maps will be unlocked which does take away the advantage of those who purchase the full version. This model has worked for other games, the most successful being League of Legends, but their Champion base is large and their weekly rotations make for a more exciting experience. We all know Quake Champions is pushing for esports, but this model feels as if it may damage that early on with limited Champion pool for the masses who want to try the game out. After all, it's those masses who will be the deciding factor whether the game will move into the esports environment and receive their support.
Luckily, id Software have yet to lay down any cemented information regarding the free Champions or whether there will be a weekly rotation, but then again there could be an implemented system where unlocking other Champions is easier, with greater rewards of in-game currency, or level requirements for in-game unlocking. This all remains to be seen.
Like esports?
Check out esports central
Last Updated: March 13, 2017