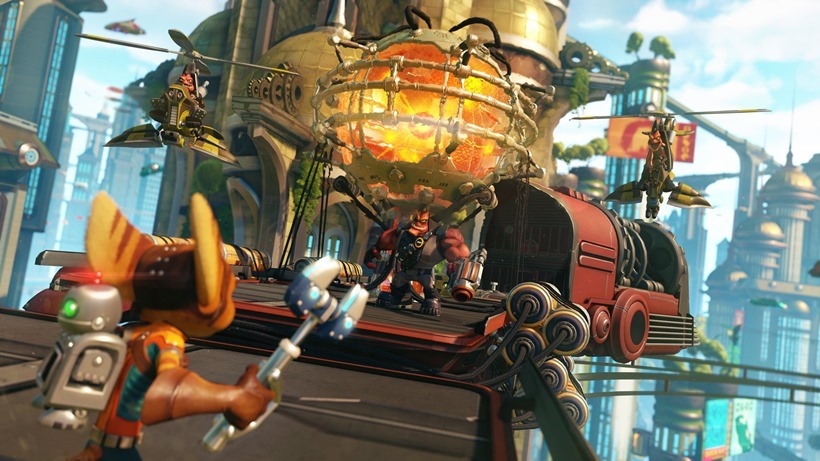 Ratchet and Clank for PS4 might seem a little familiar. Its debut on the PS4 isn't exactly a new adventure, with creators Insomniac games going way back to the beginning to bring a retelling of the first time their dynamic duo partnered up. Of course, it's not just a simple remaster of the PS2 classic either. Because a remaster simply couldn't look this good.
Instead, Ratchet and Clank is a game built from scratch that simply retains a story we're already familiar with. It's being done to coincide with the animated film releasing in April next year, which holds the real beauty of the game itself. You see, it's hard  to look at Ratchet and Clank in motion and not feel like you'll be playing an animated film in motion – which just to happens to make it one of the most beautiful PS4 titles out there.
What really gets my blood flowing is seeing the sprawling city of Metropolis in all its incredibly detailed beauty – a feat not possible on older hardware at the time. There's just so much about the above gameplay that pops, bringing to life a franchise that went through its fair share of rocky patches during the end of the last generation. I'm hoping this pseudo reboot helps turn that around, because I feel like Ratchet and Clank have so much potential for new adventures on more powerful hardware.
Or maybe that's just my desire to see how many ridiculous weapons Insomniac can now create without performance tying their hands behind their back. We saw some in Sunset Overdrive, so I'm sure Ratchet has some new toys too, right?
Ratchet and Clank is out for PS4 in Q1 of 2016, while the animated film launches in the USA in April.
Last Updated: October 28, 2015