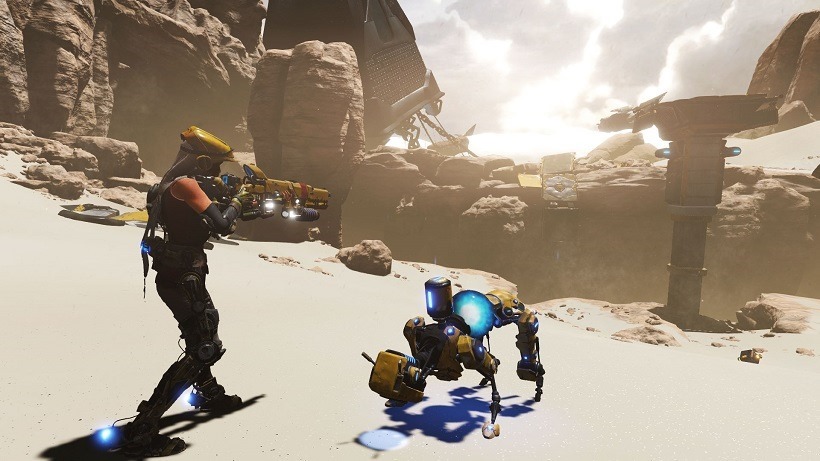 Of all the disappointing games to release this year, ReCore is right up there with the ones that stung the most. I haven't played it yet, but I'm fairly confident Darryn's own disappointment with the Microsoft exclusive is on the money. It's a game plagued by technical issues and catch ups that just aren't acceptable today – the worst of which includes some seriously ridiculous loading times. It's a problem that is being addressed in the game's first patch too.
This week ReCore will get a patch specifically targeting the sometimes ridiculous loading times the adventure title has on Xbox One. These pauses in gameplay can sometimes last well beyond two minutes, succeeding Bloodborne as the most recent example of just how terrible loading times used to be. ReCore shifts areas a lot, so this change will be highly appreciated by players still exploring all they can in Far Eden.
An update will be released this week for Xbox One and Xbox One S that will improve load times on those platforms. Keep in mind, some areas may continue to take more time than expected to load because they are larger zones, but we hope this update improves your overall experience traveling through Far Eden.
Faster loading will be particularly helpful in the endgame, where ReCore falters. Players have to do some strenuous backtracking to pick up collectibles in order to progress, which often lead to a lot more area transitions than normal. Having to wait between these broke the rhythm of the title, and set in a lot of frustration among critics.
It's certainly not all that's wrong with ReCore, and nowhere near enough to fix some of the more glaring issues with the game (Darryn, for example, had his first save corrupted), but it's a step in the right direction for an exclusive that held a lot more promise once upon a time.
Last Updated: September 22, 2016