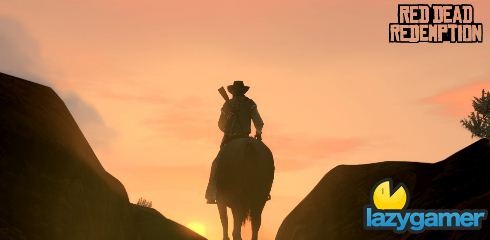 Red Dead Redemption is one of Rockstars upcoming mega titles and I was lucky enough to get a glimpse of this title behind closed doors last week Friday.
Unfortunately though a rock solid NDA is stopping me from telling you about anything that happened behind those doors until tomorrow morning when all can be revealed.
However to get you in the mood let's go over what we already know.
You will play as former outlaw John Marston who for some reason is after his former gang partner Bill Williamson. The game is set in the Wild West and will feature the same open world gameplay of Grand Theft Auto IV… without the skyscrapers and taxi cabs.
We have already seen that horses are a form of transport in the game and that there are other animals in the environment with the previous hands off preview talking about the rabbits in particular.
The game is powered with the RAGE engine and also uses NaturalMotion's Euphoria animation engine.
It will be released in April next year and if you are a fan of the GTA series then you really need to pay close attention to the post tomorrow morning, if like me you have always dreamed of being a cowboy… well then you know you are going to buy the game no matter what anyone says.
And that unfortunately is all I can say if I ever want to be invited back for another screening, if you have any direct questions feel free to leave them below and I will do my best to answer them in the post tomorrow.
Last Updated: December 8, 2009