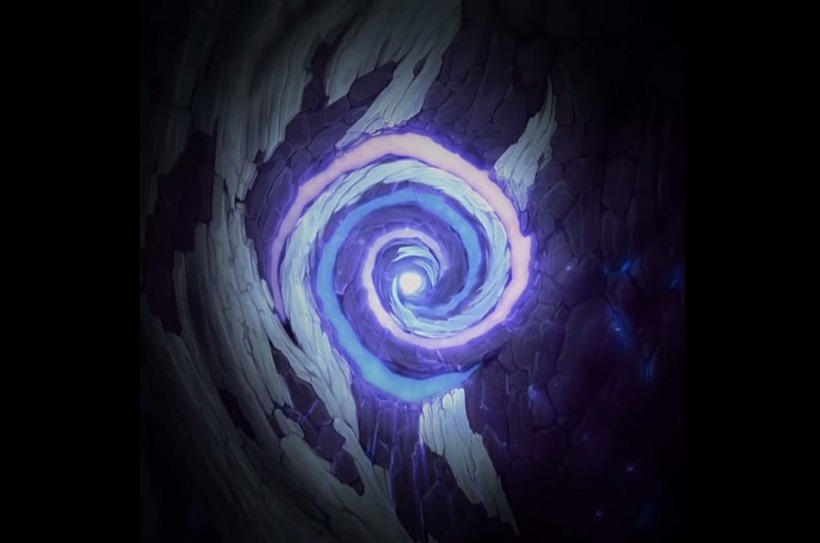 Just when you thought the character roster for League of Legends couldn't get any bigger, Riot go ahead and tease a brand new champion. Who is this new person/creature/thing that'll be joining Summoner's Rift? It remains a mystery! All there is to go on at the moment are a couple of assets found in a recent update to the PBE, and now, a new video that has popped up on the official LoL Facebook Page. Check it out!
If you can't watch the video for whatever reason, here's a quick transcription of what is said:
Wolf: Lamb, tell me a story!
Lamb: There was once a pale man with dark hair who was very lonely.
Wolf: Why was it lonely?
Lamb: All things must meet this man. So, they shunned him.
Wolf: Did he chase them all?
Lamb: He took an axe and split himself in two.
Wolf: So he would always have a friend?
Lamb: So he would always have a friend.
That… has me even more confused. I'm convinced that the white and purple mask represent the lamb and wolf respectively (that seems pretty obvious). But then, who is this mysterious man that split himself in two? What does he look like? He will probably be the new champion I reckon.
What I want to know though, is how the Lamb and Wolf tie into all of this. All we know about those two at the moment (based on speculation that each mask represents them) is that they will appear on death as is demonstrated in this video:
Will they be nothing more than those animations hovering over dead bodies? Maybe they'll tie into some themed event? I have no idea!
I don't know League of Legends lore well enough to really dive into these hints and teasers unfortunately. If you're in the same boat, this speculation post on the LoL forums did make for some interesting reading.
One comment mentions that the man who split himself in two was death himself. Doing the deed transformed him into the Lamb and the Wolf. That sounds viable to me… somehow.
Whatever the true story turns out to be, colour me intrigued! We'll just have to wait for Riot to share more information over the coming days.
Last Updated: September 15, 2015