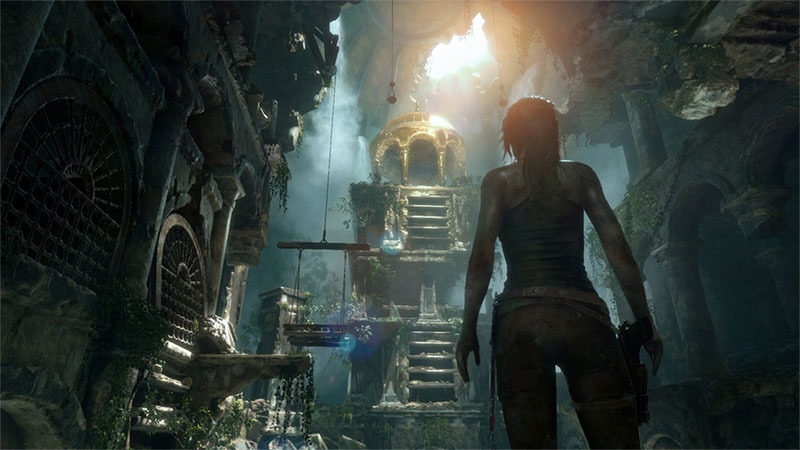 We told you earlier that Rise of the Rise of the Tomb Raider would finally be coming to the PlayStation 4 in October. The biggest complaint from consumers was that the game was already a year old, and didn't seem to offer much over the already existing version of the game on PC and Xbox One.
That's not really true. It's getting new story content and support for the PlayStation VR which will launch just two days later.
As part of the 20th anniversary of Tomb Raider, the PS4 version will ship with all of the game's current DLC, a new co-op endurance mode and a completely new story chapter called Blood Ties. Those who own the game on Xbox one or PC and the Season Pass will get the new content as well.
It'll also be rereleased as a whole 20th anniversary package on PC and Xbox One – but those platforms will have to make do without the VR experience, which lets PS4 owners "unlock the mysteries of Croft Manor in first-person." The new co-op endurance mode sounds intriguing too.
"Two players must team up to survive the harsh elements by day, as well as lethal threats from enemies by night. Fire takes fuel, food restores health, and every resource must be hunted, collected, or crafted. Battle to the top of the leaderboards, as others try to beat your longest survival run."
It sounds a little like Don't Starve: Together.
"[Crystal Dynamics] is celebrating with all Tomb Raider fans, thanking them for being on Lara's 20 year journey with us," said Scot Amos, co-head of the studio. "The team has packed in surprises, new story, and the top-requested special features into this 20 Year Celebration edition."
Here's what the new chapter is all about:
"Blood Ties, a new premium DLC, beckons players to explore Croft Manor in a new story mode; then defend it against a zombie invasion in Lara's Nightmare. When Lara's uncle contests ownership of the Manor, Lara must explore the estate to find proof that she is the rightful heir, or lose her birthright and father's secrets for good. Players can then test their zombie-killing skills in the replayable Lara's Nightmare mode: a haunted Croft Manor where players have new challenges and must rid the Manor of an evil presence."
Last Updated: July 19, 2016