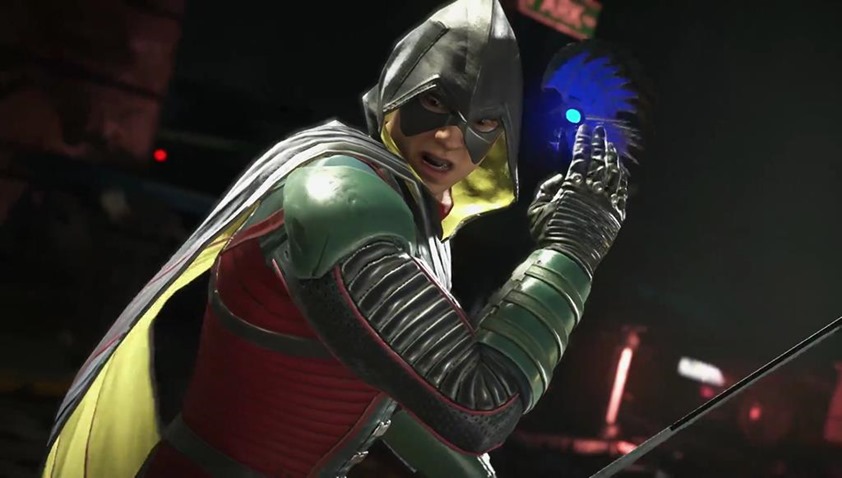 Some people love the current Robin, Damien Wayne. I'm of the opinion that after having him as a Batman sidekick for over a decade now and whose defining trait is petulant little sh**, I'd be more than happy to see Superman dropkick him out of the multiverse. That's the regular DC comics however, with the Robin of the Injustice games and comics of that series being a different and far more layered character.
He popped up in the first Injustice game as the latest incarnation of Nightwing, a character that he pretty much killed while having yet another temper tantrum. Which kind of pissed the dark knight off. Man, family reunions after the Arkham incident were awkward. A few years later and Damian is once again rocking a familiar hood, having traded his Escrima sticks for a far more lethal sword. Here's how his gameplay looks so far:
Not bad, and clearly an interesting counter to Batman's usual tricks and gadgets in a manner similar to what Deathstroke was in the first Injustice game. I'm especially digging the cosmetic flourishes, as Damian's Robin costume is clearly a blend of caped crusader and league of assassins influences here.
Keeping up with the Injustice 2 news, NetherRealm head cheese Ed Boon announced on last night's livestream that beta codes have begun their path to your mailbox, if you registered for them that is. Boon also chimed in regarding the issue of the Gear System being used for nefarious profitable reasons, claiming that none of the gear available to outfit characters with will be up for sale.
Although I'm still firm in my motto of believing half of what you see and none of what you hear.Injustice 2 drops this May on Xbox One and PS4, and it'll give you a chance to finally settle the debates over who would win in a fight: Batman or Superman. Answer: It's Bat-Mite.
Last Updated: January 25, 2017