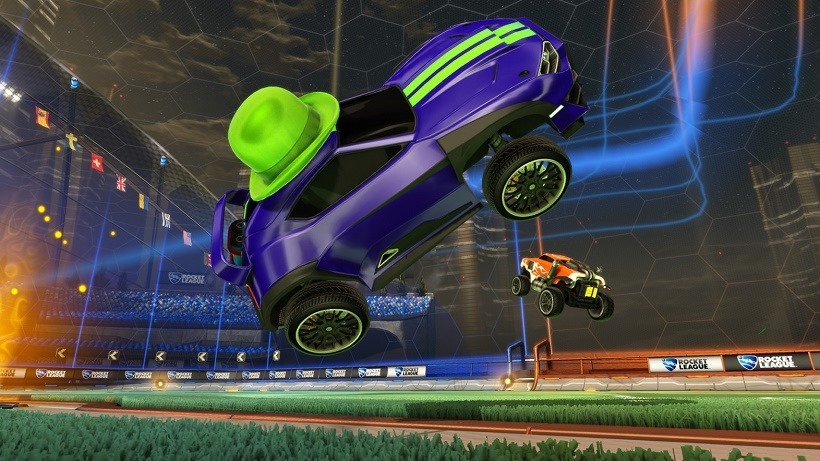 If you're a sucker for cosmetics (like I am), the upcoming June update for Rocket League is sure to tickle your fancy. A few days ago, Psyonix said that it would contain painted and certified items. They've now announced that it will feature rare items and a trade-in system too (via PC Gamer).
That latter bit of news is what has me most excited. A trade-in system? Hallelujah! Now I can throw away all my duplicates in exchange for something potentially better.
Though, I may want to hold onto them for a bit longer. Psyonix are working on another cool feature that'll come sometime after the June patch…
In the interest of full disclosure, we plan to implement Player-to-Player Trading in a later update. Some items, like those with "Painted" or "Certified" attributes, may become much more valuable if you can trade them to other players.  The "Trade-In System" is designed to let you get rid of unwanted or duplicate items, but you should consider carefully what you trade now versus what you might want to keep for future player-trading opportunities.
It's about damn time! I wonder if Alessandro would be willing to give up some of his Portal 2 items? Probably not (that damn selfish Porra), which is why I'll have to revert back to the trade-in system and hope that I get lucky.
The way it works is quite straight forward. Trade-in five common items and you'll earn yourself something uncommon. Trade-in five uncommons, and you'll score yourself something rare. And, yes, trading in five rares will then result in something very rare (I think Psyonix need to rename that category to legendary or something similar).
I'm quite stoked with these upcoming Rocket League features. What about you? Are you keen to get your hands on some shiny new cosmetics? Do you have a backlog of duplicates that you've been dying to get rid of?
Last Updated: June 8, 2016