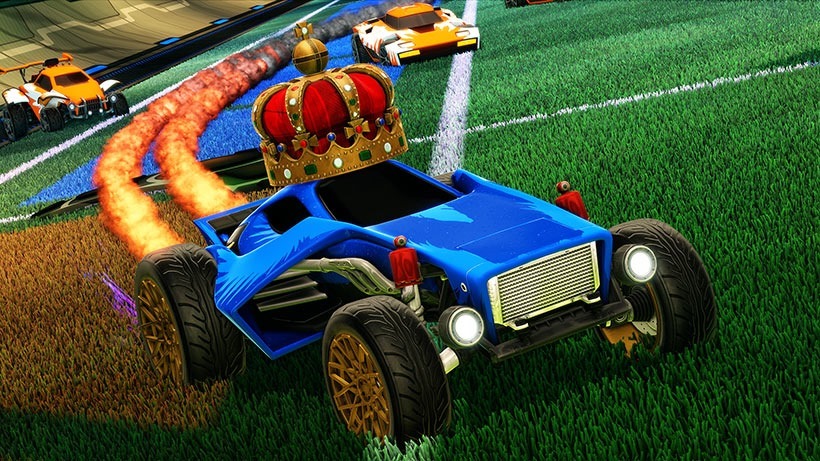 If you've happened to play against Lazygamer's B team in our ongoing Rocket League Tournament, you'll know that I am, despite my own protestations to the contrary, pretty damned terrible at Rocket League. I'm exceptionally good at aimlessly driving up the walls, flipping my car and not hitting the ball. Doesn't mean I'm ever not happy to play it though.
Me and more than a million other people who're playing it every single day. Rocket League really has become a sensation, with over a million downloads on Steam, and around 5 million PlayStation ones too. That it has cross platform multiplayer has certainly helped its longevity.
Speaking to develop, Psyonix VP of marketing and communications Jeremy Dunham has said that the game is still actively played by about a million people a day on a good day. On a not so good day? Still between 750 and 800 thousand rocket-powered soccar fanatics.
"We have quite a few players logging in to play the game still 11 weeks after the fact, so we're really encouraged by that," he said.

"One thing we found interesting overtime is that the gap between PlayStation and PC users is getting closer. PS users are still by far the majority, because the PS audience was able to get it for free that month. But overtime the PC users are definitely closing that gap, and that's really encouraging."
It's been nearly 3 months since the game was released – but people are actually playing the game more than ever.
"We're also finding that people in general are playing the game a little bit more," said Dunham. "We're seeing a higher amount of time spent with the game now than we did in August, for example. So those are all encouraging numbers, and we're hoping it continues on down the rout.

"We're realists also that eventually the air is going to slowly dwindle out of our sales in terms of being the hot game, but we're enjoying it while we can."
I think this game is a case where PlayStation Plus has helped enormously in getting the game attention via word of mouth, though I do think the biggest factor in Rocket League's success is how much damned fun it is.
Last Updated: October 5, 2015