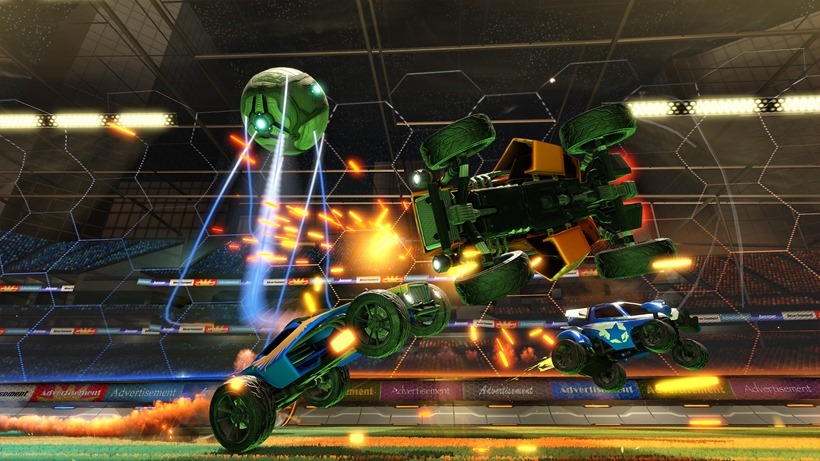 It's true – Psyonix Studios are ready to make Rocket League cross-play a reality. All they have left to work out now, are the politics of the arrangement.
This is according to Psyonix Vice President, Jeremey Dunham, who discussed the matter in an interview over on Gamespot.
"Technologically everything works, we've got it figured out, just a little bit of time to get everything up and running. The only thing we have to do now is sort of find out where we stand politically with everyone, and then it's full steam ahead to finish the solution that we've already started."
In case you missed it, last week, Microsoft invited Sony to join them for cross-network play. Sony weren't ready to commit just yet, but they seem to be very much on the same page regarding the matter, which means they hey, cross-play between the platforms may actually be a reality one day.
What's interesting is that both parties said that it's up to the developers to decide if they want to include cross-play functionality in their games or not. Well, Psyonix are very keen, and actually ready technologically.
It's honestly a no-brainer. Uniting the community from each platform will only make the game better. Dunham explained why in the very same interview.
"There's this weird psychological thing that happens with people if you let them know that their community is small, even though they're enjoying the game and playing it. There's this weird effect where sometimes it encourages them to stop playing if they think nobody else is going to play with them, which creates a snowball effect where other people stop playing because they don't think anyone's going to play.

The more people you have to throw in there, the less likely that psychological anomaly will kick in. Then you have the actual reality of it, which is, more players, for everyone, means more games, and more games means more participation and community feedback, which we can then put into the game as a whole and not have to worry about siloing off certain features of certain platforms because this version doesn't have it, or whatever the situation may be."
I'm all for cross-play. I really hope Psyonix come right with the politics of the situation, and manage to bring all the communities together in their ever addictive VROOM VROOM title.
Last Updated: March 22, 2016