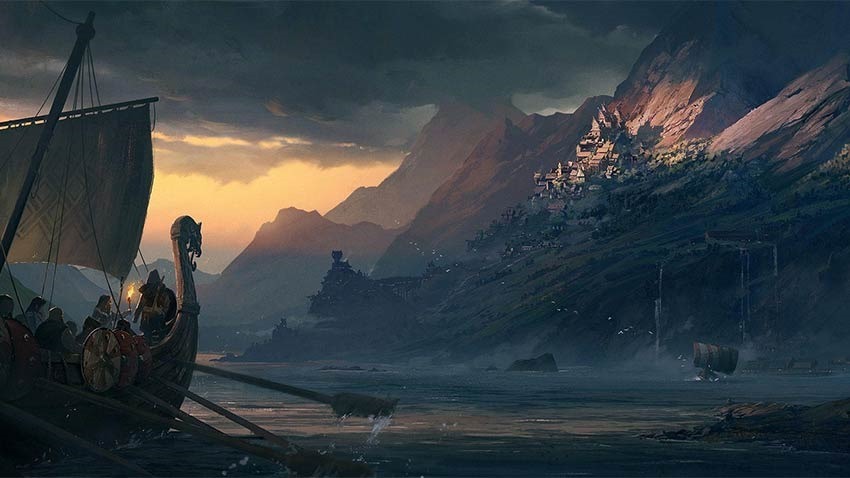 For ages now, it's been rumoured that the next Assassin's Creed game will give us a look at the Vikings. It's interchangeably been called Kingdom and Assassin's Creed Ragnarok – though it's likely one of them is a codename and the other is the name of the game. Earlier "screenshots" of the game were proven fake, but the rumours have persisted. While Ubisoft hasn't confirmed anything of the sort, I'd put money down that the rumours are on the money, and that we'll see a Viking-based Assassin's Creed next year.
According to random people on the internet, the game will be set around 800 BC, will include parts of Scandinavia and England and – like Odyssey – will feature an interchangeable male/female lead, this timed called Jora. Here's the latest "leak" that surfaced on Reddit this week, with all of its typos intact:
"The game was codenamed kingdom but now is called Ragnarok. Release fall 2020 on both old and new gen. Reveal during the playstation event on feb. Viking setting, c. 800 BC. Map includes Scandinavia and a big part of England, including London and Plimouth. Choice between a woman and a man, but there's no impact on the story, that is the same. Protagonist, woman or male, is called Jora, and become an Assassin during the game. Brotherhood system is back, with recruitable npcs. You can still use a boat to travel on sea, but there's less naval combat than black flag or Odyssey imo. Story-wise, the game is focused on a revenge quest, with a big part of first civilization story.

Realms like asgard or Jottuneim can be visited in the game, mythical beigs such as Odin or Loki play a big part in the story, as well as the Ygdrassil. Game has a present day part but, as much as Origins or Odyssey. It will conclude the present day storyline. gameplay is the same as odyssey, with improved mechanics and further rpg elements"
While it's best not to put too much stock into random reddit posts, what makes this particular word salad interesting is that Former senior editor at Game Informer, Imran Khan, speaking in his new gig as a co-host of the Kinda Funny Games podcast said that he'd heard rumours suggesting Ubisoft would reveal the new Assassin's Creed in February, possibly at a PlayStation reveal event. Most industry pundits believe that Sony will do an official PS5 reveal in February, with a launch towards the end of the year – and this would tie in nicely for the new Assassin's Creed to be a launch title for the system, with a release on the current-gen consoles too – pretty much as we saw with Assassin's Creed 4: Black Flag.
Personally? I hope the rumours are true I think the Norse setting will be an interesting one for the series, and given how much I enjoyed Odyssey and its forays into mythology, battling the Old Gods sounds like a good time.
Last Updated: November 20, 2019