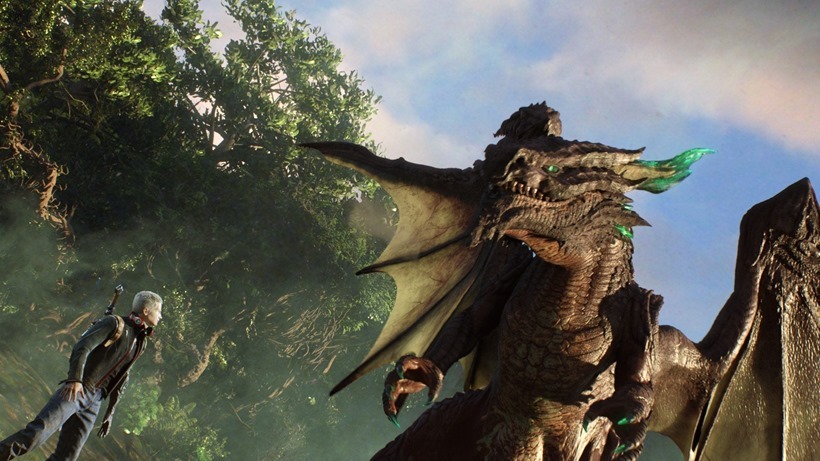 Japan has always been the backyard for Sony and the PlayStation, and nothing had solidified this more than depressing performance of the Xbox One in the land of the rising sun. Microsoft, despite this, have been desperately pushing to gain more ground – one of which includes securing a branding new Japanese hack and slash adventure from famed developers Platinum Games.
Scalebound is only going to be on the Xbox One, and Microsoft thinks it's their golden ticket to Japanese gamers. That's according to Xbox Japan Marketing Manager Masashi Inoue, who expressed his excitement on a Japanese game coming exclusively to the one console Japanese gamers seemingly couldn't care about. Scalebound, it seems, has a lot riding on its shoulders.
"I think not only it's an exclusive for Xbox, but Platinum Games is well known, and has big fans in Japan and also overseas. So, having seen those great demos, I firmly believe that that it's going to deliver a lot of excitement to our customers, and we're looking forward to the release."
And it seems Microsoft has been thinking about a move like this for a while too. Platinum Games' Creative Producer Jean Pierre Kellams told Dualshockers that they've been wanting to make Scalebound before they even started on Bayonetta, and it happened to be Microsoft who approached them at exactly the right time.
"We've always really loved the Xbox as a platform, and we've always really wanted to work with Microsoft, and when we're finishing up Wonderful 101, we went back… We've been trying to make the ideas behind Scalebound for a long time, since before we even made Bayonetta. So they came to us once again, they were like "Ok, you know, we're thinking about this new hardware platform, and we'd love to work together, do you guys have something that might be something like really challenging and big that we can work together on" and we were like "we have just the idea."

"So we showed them Scalebound, and it was a really interesting pitch process, it took a long time. There was actually a big steel book that has the original design on it, that we showed, we kind of "Boom, this the scale of our game." And they really believed in the project and we started working together a couple of years ago. Ever since we've been working towards bringing Scalebound to the Xbox One."
Looking back at the demo shown off at Gamescom, Scalebound certainly looking interesting. It's got an immediate sense of distinct style, while embodying everything you'd expect from a game with Platinum's name on it. Whether it's enough to get Japanese gamers to actually by an Xbox One is another question entirely.
Last Updated: September 29, 2015