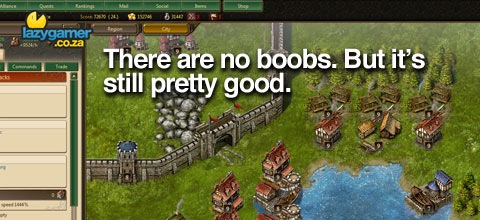 You all know about Evony, and you all know about the ridiculous boob-filled ad campaign that it has become infamous for.
While I can't say that I have proof, it seems pretty clear that EA decided that they should jump on the bandwagon of Evony's popularity and release their own online free-to-play Evony styled game, except for one thing. It's a heck of a lot better.
We already posted about the beta way back in January, with Geoff poking some fun at EA and Evony as well.
Lord of Ultima joins Tiger Woods Online in EA's line-up of free online browser-based games available from the publisher. It's available to play for free right now, and you know what? I tried it and it's actually pretty sweet.
More (and a gameplay video) after the jump.
I hopped into the game to give it a go and was able to connect with my usual EA account that's used on my consoles and PC.
I have never played Evony, but thanks to Lord of Ultima's built in chat system, I managed to have a good chat with a couple of folks that have, and they all agreed that Lord of Ultima was a whole lot better.
Lord of Ultima is basically a strategic city and trade management game that has you building up a city, harvesting resources and trading. I have never really played games but out of my own limited experience in this genre, I can say that it reminds me of Age of Empires mixed with Civilization: Revolution.
The folks on the other side of that in-game chat also told me that it bares a slight resemblance to Facebook games like Mafia Wars and Farmville but is mostly a lot like a game called Travian, but you will have to take their word for it.
Even better, I have tracked down a video walkthrough of some of the mechanics by the developers.
After playing through parts of the tutorial and building up some resources for a while, I can say that this actually looks like a fantastic time-eater. But why listen to me ramble on about it? Go and try it for yourself.
For anyone interested, the actual download in the browser was very small, clocking in at around 8MB or so if what I saw was correct.
Lord of Ultima Homepage via VG247
Last Updated: April 21, 2010