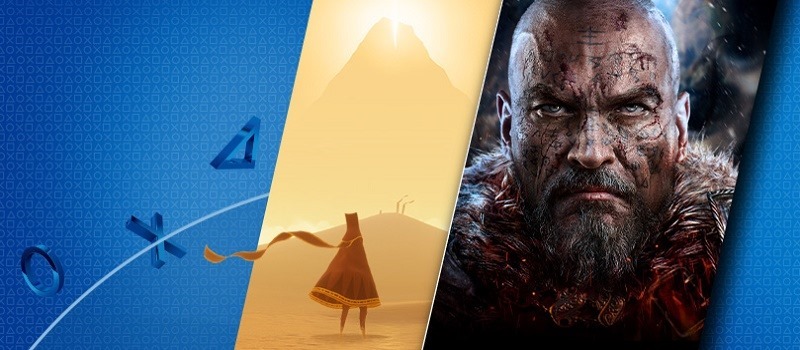 If you haven't renewed your PlayStation Plus subscription lately, best you do soon, because there may well be a price hike on the horizon. America received one just recently, and it's possible (but unlikely) that other regions might get one too in future.
Saving money isn't the only reason I'd recommend a renewal immediately though. Remember, there are free games on offer each month, and they're only available to those who have an active PlayStation Plus subscription.
And this month's line-up of games is looking mighty fine if I do say so myself, and I don't think anybody would want to miss them. Check it out…
First up is Journey. The talented developers at thatgamecompany bring us the critically acclaimed winner of several Game of the Year awards. Finding yourself alone in the desert as the mysterious Traveler, you must make your way to a distant mountaintop. But there is so much more to this sublime experience than simply traversing the world. With stunning visuals, an amazing soundtrack, and a unique online experience there really is something very special about Journey.

Next up is the fantasy epic, Lords of the Fallen. Seeking redemption for past sins, you play as Harkyn looking to end a bloody war between humans and gods. With three classes to choose from, you can tailor the combat experience to your liking. And in a game where every encounter matters and your choices have consequences, the layers of customisation are an integral part of the game. So collect your gear and prepare for close-quarters combat as you take the fight to brutal demon lords.
Journey is one game I've wanted to play for a long time now. People always speak so highly of it! Take Alessandro for example, who gave it a casual 10/10 in his review back in July 2015.
Pulling on emotional strings throughout, Journey is every bit the masterpiece on PS4 that it was on PS3. It's an emphatic example of art, sound and design working in complete harmony together, creating a piece of digital art that just begs to be experienced. Journey is nearly flawless, and will remain so until the end of time.
This is one of those rare occasions where my procrastination actually paid off.  I'll now get to add Journey to my library, for free. This to me already makes this month's PlayStation Plus well worth it.
If running across a beautiful desert isn't your thing however, you might want to check out Lords of the Fallen then instead. It's essentially a Dark Souls clone that's not particularly fantastic, but not too bad either according to Umar.
Lords of the Fallen provides players with a solid experience and fun combat system, but it never provides enough reason to care about anything else.It's a shame as the game does have a lot of potential. With a little more polish and tweaks done to the story and balance, Lords of the Fallen could be a great title. Right now though, it isn't.
As for the rest of September's line-up, well, it'll be hit or miss depending on what your specific tastes are. Here's an overview of everything that's on offer this month:
Lords of the Fallen (PS4)
Journey (PS4, PS3)
Prince of Persia: The Forgotten Sands (PS3)
Datura (PS3)
Badland (PS Vita, PS4, PS3)
Amnesia: Memories (PS Vita)
If you've not yet grabbed August's games, I'd recommend you do so immediately. They're going to be swapped out soon. You wouldn't want to miss out on these titles too, would you?
Tricky Towers (PS4)
Rebel Galaxy (PS4)
Yakuza 5 (PS3)
Retro/Grade (PS3)
Patapon 3 (PS Vita)
Ultratron (PS Vita, PS3, PS4)
My PlayStation Plus subscription has been inactive for the past two months or so. With Journey now and offer, along with a plethora of other titles, I am genuinely contemplating renewing it right this second.
What about you? Are you happy with September's line-up of titles? Personally, I think it's pretty solid, even if I'm only going to get around to playing one of the games.
Last Updated: September 1, 2016