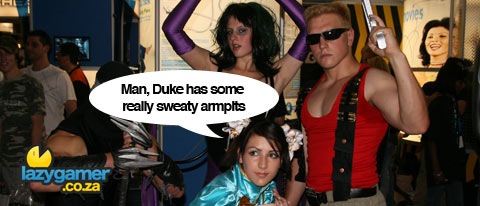 Rage 2009 kicks off this Friday and will be running through till Sunday so we though we would give you all a little bit of a peak as to what you may or may not see at the show this year.
Rage is looking like it's going to be pretty amazing this year and I have all the information to prove it. A lot of yet to be released games will be playable so be prepared to get some hands on time with some hot titles.
Hit the jump and get all the info on this years event, it's going to be a good one.
Who Loves Games?
Here is a list of games that will be on display that we know of so far, with a lot of unreleased titles that will be playable.
Megarom
Splinter Cell: Conviction – Will be demoed live
Assassin's Creed II – Playable
Avatar: The Game – Playable
DJ Hero – Playable
Guitar Hero 5 – Playable
Borderlands – Playable
Marvel Ultimate Alliance 2 – Playable
Tekken 6 – Playable
Red Steel II – Playable
Baku Gang – Playable
Microsoft
Forza Motorsport 3 – Playable

Lips: Number One Hits – Playable

Halo 3 ODST – Playable

Halo Wars – Playable

Assorted Third Party Titles
EA
Fifa
Need for Speed
Madden 10
Beatles Rock Band
Fight Night Round 4
Tiger Woods 10
Nu Metro [Demoed – Playability uncertain]
Operation Flashpoint: Dragon Rising

Rogue Warrior

Batman: Arkham Asylum

Mario and Sonic at Winter Games
In the flesh
Megarom and Ubisoft have also organised to have Avatar developer Brent George on the showroom floor as well as 2K Games' David Halse, top notch stuff. We will be doing interviews with the guys and getting all the nitty gritty and you will be able to read all of that here after the weekend is done.
Keep an eye out for live demos from the good blokes mentioned above.
Microsoft will also have the third place finalists from South Africa's Idols there to strut their stuff whilst playing lips, which will be taking place Sunday between 11:30 and 12:30.
Competitions
Microsoft have informed us of some very interesting competitions that they will be running.
There is going to be a Forza Motorsport 3 Quick Lap competition running between 10:30 and 11:30 on Saturday and Sunday and to celebrate Audi's 100th year, the prize will be an Audi Advanced Driving Course, so err, it's a no brainer to enter that one then.
There will also be a Lips competition running on Saturday and Sunday between 14:00 and 15:00 for those of you who like to break out their vocal skills, with the winner taking home a copy of Lips and possibly even having a battle with one of the Idols finalists.
Also be on the lookout at their stand for assorted giveaways as well.
Other stuff
The LAN also just keeps getting bigger and bigger with this year seeing 1800 tickets completely sold out (for a while now). We can also expect some awesome stuff to go down on the big stage as well as some great tournaments to watch as well.

There should also be the usual army of Booth Babes roaming the showroom floor, so be sure to snap a couple picks with them while you pull your muscles, it will make you feel really awesome, I guess, somehow.
See You There
Phew, ok so that's all the information we have so far. You can be sure that there will be even more happening than what we have here so be sure to get your butt over to Rage 2009 and do your bit to boost the local gaming scene.
We will have lots and lots of write-ups for all if ya'll next week, so be sure to check back for all the info and awesome-ness.
Last Updated: October 1, 2009