I am a Prins. And as it befits my royal behind, I ascend the Throne daily to ponder the deeper and more profound things in life. Like how can my cute belly produce such profoundly obnoxious gasses?
Also, what on earth will the next Stuff pack be for the Sims 4? And when? Turned out my iPad had some good news for me last night as I wrestled with some tough… thoughts.
The when is January 12 2016.  The what? Movie Hangout Stuff.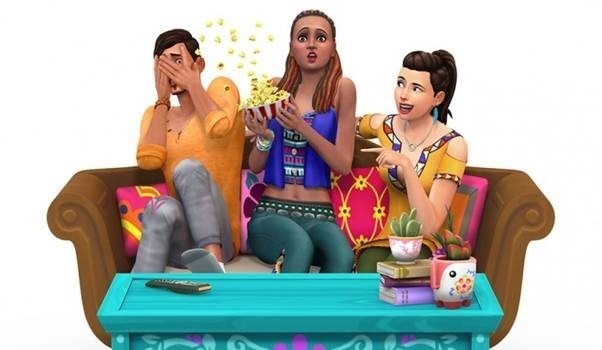 Must be watching The Grudge. Or an Adam Sandler flick.
Now your Sims can all get together, watch a flick or ten on the Movie Projector Screen. That thing is huge! And nope, it is not some souped up Television set. It comes with ten original movies for your Sims to watch. Action! Romance! Comedy! Horror! Even two family flicks, just in case you have kids about.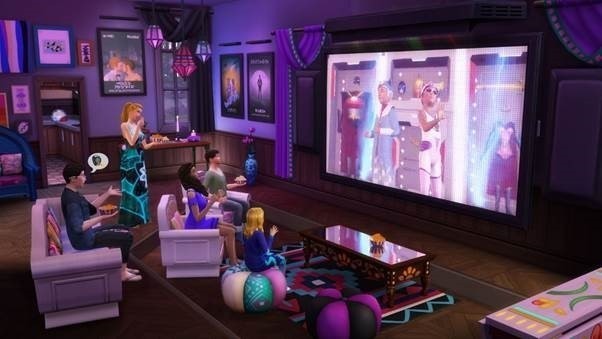 Oh and in case you were wondering, it does come with a Popcorn Popper too. Because you know. Popcorn and movies. Horse and carriage, really. The fun can be had inside and outside. Create an awesome indoor hang out or watch a horror in the breeze outside. Then watch in horror as a bunch of skelms run off with your screen, popcorn maker and the drapes.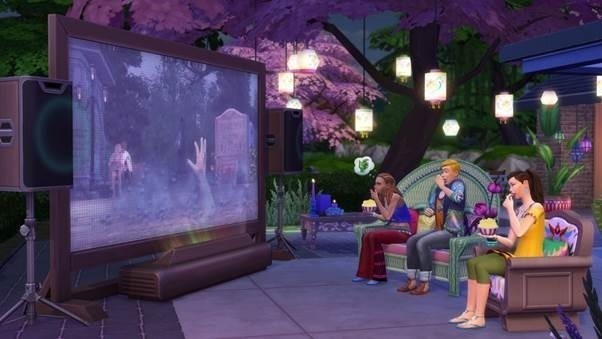 New objects are also included, as is new outfits to prance around in, which is par for the course of any Sims stuff pack. Just in case you did not know. The Base game and all patches are required.
Here. Have a trailer too:
Last Updated: January 7, 2016