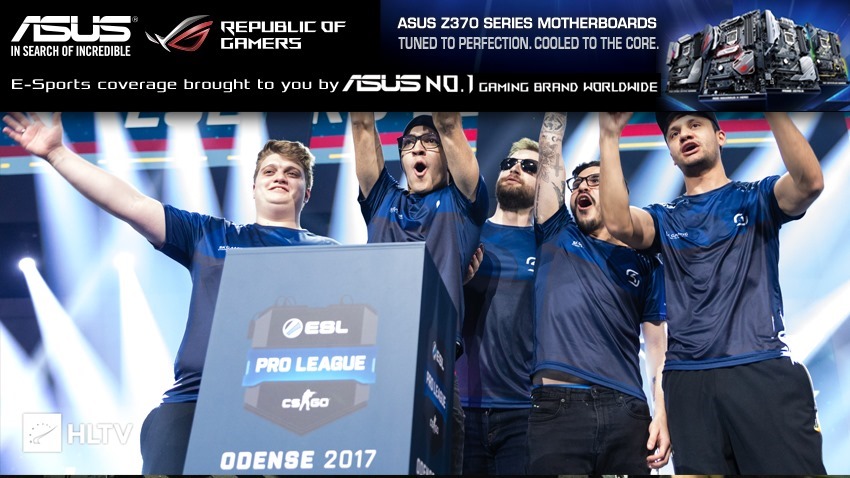 SK Gaming have defeated FaZe, a team lead by Finn 'karrigan' Andersen, in the grand finals of the ESL Proleague Season 6. This adds yet another trophy to SK Gaming's almost packed trophy case as the team who've been dominant for the past two years continue to impress crowds.
SK Gaming had a stellar weekend taking four wins against top teams and only losing one to OpTiC Gaming. OpTiC had changed up their lineup not too long ago which welcomed ex-Ninjas in Pyjamas player Adam 'friberg' Friberg. SK Gaming met Misfits in the semi-final, a team lead by Sean 'sgares' Gares who has recently returned to the spotlight in competitive CS:GO. SK Gaming lost only seven rounds in the semi-final against misfit and secured an easy win to the Grand Finals where they met FaZe.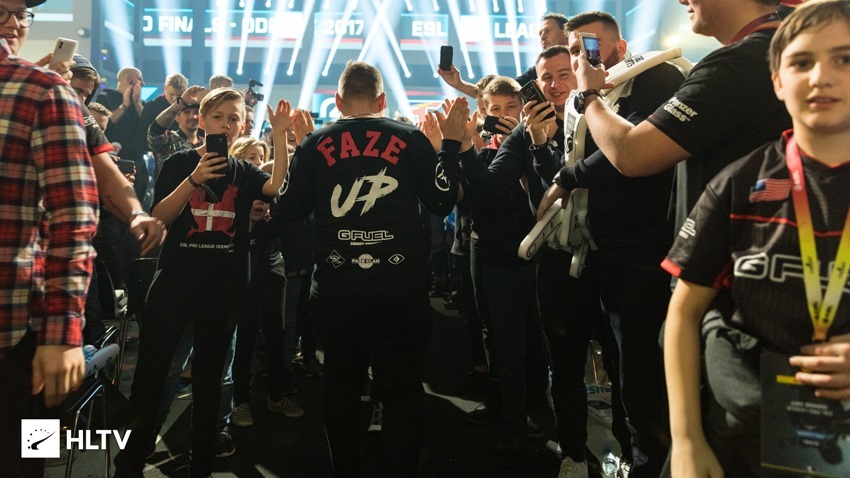 FaZe Clan enter the arena – image courtesy of hltv.
In the best-of-five, the opening round launched with a bang as Ladislav 'GuardiaN' Kovacs took a 1v3 to clutch the Terrorist pistol for FaZe. FaZe grabbed a decent lead going 6-1 until Epitacio 'TACO' de Melo answering in round seven to get SK Gaming back on the board. SK Gaming mounted a small comeback forcing an 8-7 finish, meaning FaZe held onto a small lead going into their CT side. FaZe held a considerable lead in the second half and managed to take the first map 16-13.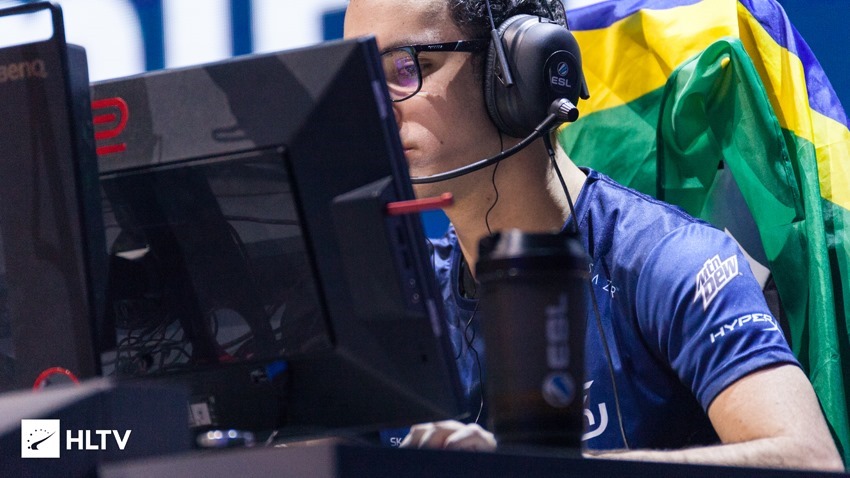 TACO – image courtesy of hltv.
The opening round on Overpass saw Olofmeister doing his own GuardiaN impression as he shut down SK once again in the opening round as they approached the B-Bombsite. However, this time around FaZe were not able to capitalize on their lead as SK came back with a force buy on round two and took a small lead early on. It wasn't until captain Karrigan stepped forward and brought the score to 3-3 once again. The match remained rather tight as FaZe Clan once again secured the first half 8-7. The opening round of the second half saw an incredible 5v5 retake by SK Gaming. After taking the first round FaZe decided to go for a force buy with some extra cash from their bomb plant. Unfortunately, they were shut down and SK Gaming took a considerable lead early on with 11-8. SK Gaming, with their confidence in tact, took the next few rounds ending on 14-9 before FaZe fought back. It wasn't enough for Europeans as SK finished the second map 16-11.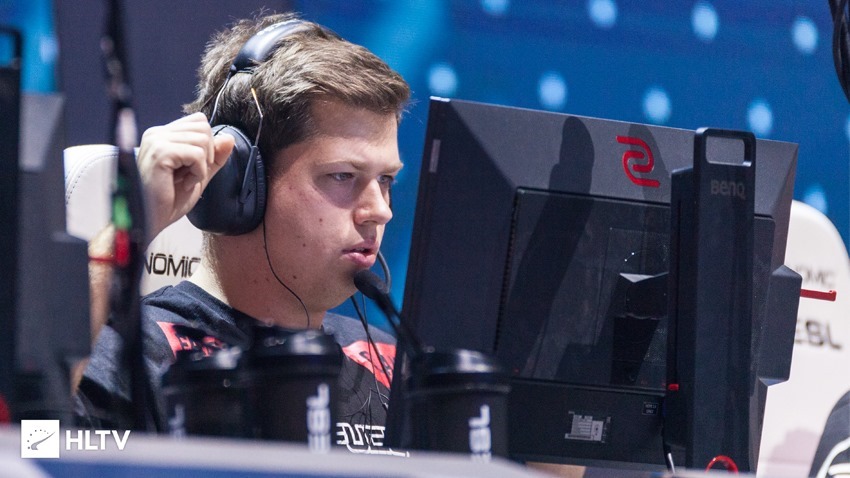 karrigan – image courtesy of hltv.
Mirage was a bit of an onslaught for FaZe Clan as SK Gaming ran away with the game from early on. SK Gaming took the opening round and managed to shut down all anti-eco rounds which followed, ending up on an early 4-0 lead. SK Gaming continued to dominate as they won a crucial 1v1 between TACO and GuardiaN which bolstered their lead and granted them a 13-2 finish in the first half. The second half was do or die for FaZe Clan, and luckily NiKo joined the game rather late to put a few more rounds on the board and secure a 14-9 close on the Brazillians. Unfortunately, it was a little too late and SK Gaming took Mirage 16-9 giving them a 2-1 advantage and match point.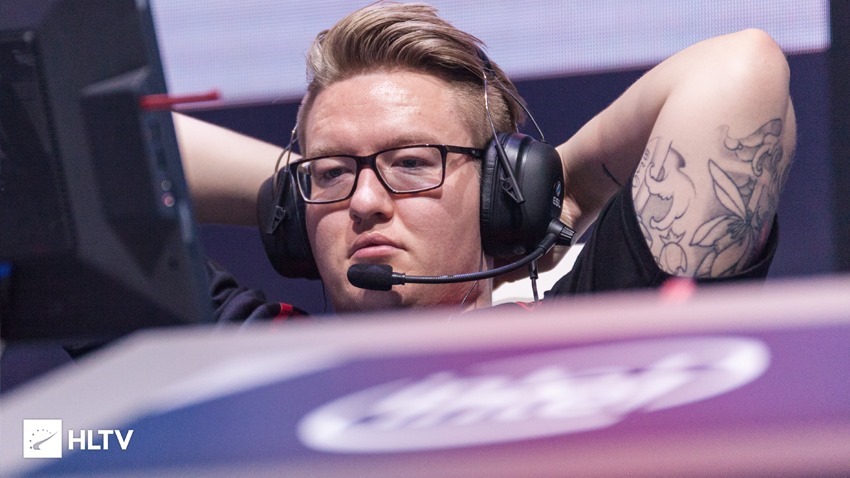 rain – image courtesy of hltv.
The final map was train, and SK had a flying start. Their opening round was a bit shaky, but both boltz and coldzera managed to clutch with 5 combined kills between the two players. As the half progressed, ladder room became a hotspot for rain as he shut down SK Gaming round after round and got his team back in the match, ending the half 8-7. After the switch, FaZe showed promise as they ran away with the game not dropping a round and going up to 11. SK Gaming managed to lock FaZe at 11 rounds as they pushed back on ladder room, securing a 14-11 lead. FaZe Clan held SK Gaming at match point as they fought back into overtime. In OT, SK Gaming managed to pull through and took the game 19-16 to be crowned the ESL Proleague Season 6 Champions.
Like esports?
Check out esports central
Last Updated: December 11, 2017