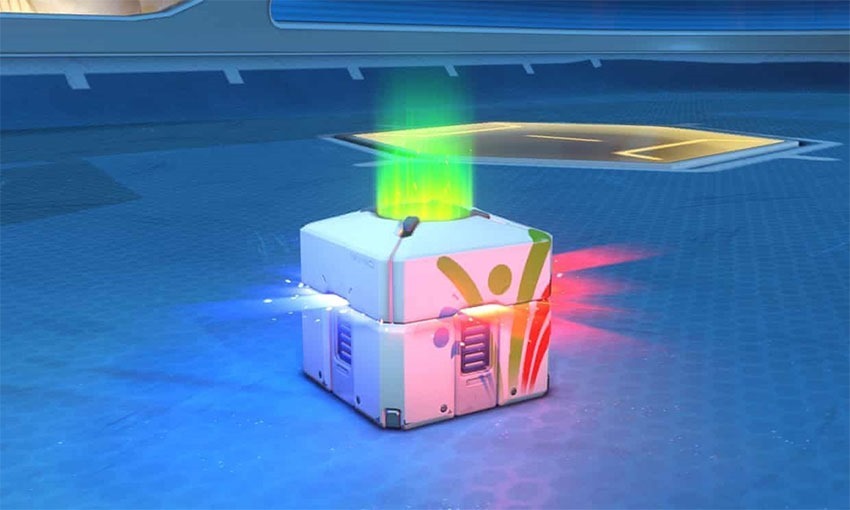 Loot boxes are a contentious issue. Some feel that they're a harmless way to monetise games beyond the initial sale. Others feel that they're akin to gambling, exploiting the dopamine rushes they incite in people to nickel-and-dime them, extracting blood from a proverbial stone. They've been banned in some countries, and it's forced publishers and developers to change how they implement their loot boxes.
They're going to have to think about that a lot harder, as in the near future, the way most loot boxes are handled at the moment won't be allowed on Sony, Microsoft or Nintendo's consoles.
In a statement, the US's video game trade association the Entertainment Software Association says that the video gaming triumvirate has come to a policy agreement, stipulating that all loot boxes in games on those platforms will have to explicitly stipulate the odds.
"I'm pleased to announce this morning that Microsoft, Nintendo, and Sony have indicated to ESA a commitment to new platform policies with respect to the use of paid loot boxes in games that are developed for their platform," said ESA's chief counsel for tech policy Michael Warnecke

"Specifically, this would apply to new games and game updates that add loot box features, and it would require the disclosure of the relative rarity or probabilities of obtaining randomized virtual items in games that are available on their platforms."
Warnecke says that many of the industry's leading publishers have agreed to implement similar disclosure policies, by no later than the end 2020. This includes the likes of Activision Blizzard, Bandai Namco, Bethesda, Bungie, Electronic Arts, Take-Two Interactive, Ubisoft, and Warner Bros.
This is just about the best sort of self-regulation regarding loot boxes we could realistically hope for. By implementing policies like this, publishers and platform holders get ahead of any impending legislation around loot boxes, and this just makes everything cleaner for everybody involved without governments getting in the way.
In a statement to Kotaku, Sony says it wants its customers to make "informed decisions."
"Sony Interactive Entertainment aims to ensure PlayStation users have access to information and tools, such as parental wallet controls, that will help them make informed decisions about in-game purchasing. We support industry efforts to disclose the probability of obtaining randomized virtual items, known as loot boxes, and are committed to providing consumers with this information for all games we produce and publish."
Microsoft issued a similar statement.
"We believe in transparency with customers and providing them information for making their purchase decisions," a Microsoft spokesperson said. "This is why by 2020 all new apps or games offering "loot boxes" or other mechanisms on Microsoft platforms that provide randomized virtual items for purchase must disclose to customers, prior to purchase, the odds of receiving each item. In addition, we're proud to offer robust family settings that offer further control over in-game purchasing."
Lastly, Nintendo did the same:
"At Nintendo, ensuring that our customers can make informed choices when they play our games is very important. As part of our ongoing efforts in this area, Nintendo will require disclosure of drop rates in Nintendo Switch games that offer randomized virtual items for purchase, such as loot boxes. This requirement will apply to all new games and includes updates to current games that add loot boxes through in-game purchases.

We also offer tools like our Nintendo Switch Parental Controls mobile app, which empowers parents to choose what works for their family, including managing in-game purchases and setting playtime limits."
This applies to updates to games after release too, so companies can't sneak loot boxes into games after release.
By taking the thrill and dopamine hit out of loot boxes with explicitly stated odds, Warnecke says that this is "a comprehensive approach to ensuring consumers get the information they need so they can make informed purchasing decisions when it comes to paid loot boxes."
Last Updated: August 8, 2019