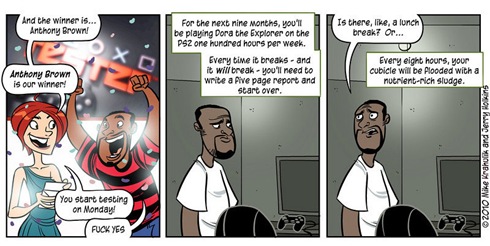 Somebody at Sony has obviously been hitting the electric Kool-aid, because they thought this was a good idea. Starting on February 18th, you'll be able to download weekly episodes of "The Tester," a new reality TV series from the PSN.
The show will feature real life gamers competing for one of the most dull, draining and wholly unfulfilling jobs in the videogame industry – that of the Q&A tester. A staple of childhood gamer fantasies, the job of the tester is far, very far removed from the fun and glamour perceived by the prepubescent mind. It is, I suppose, an interesting way to occupy a vacancy that could easily have been filled by throwing a cheeseburger at a vagrant.
click the header picture to embiggen – It's Penny Arcade's take on the show.
If you're somehow interested, you can find a trailer after the jump. Reality TV…not quite my thing.
Last Updated: February 2, 2010