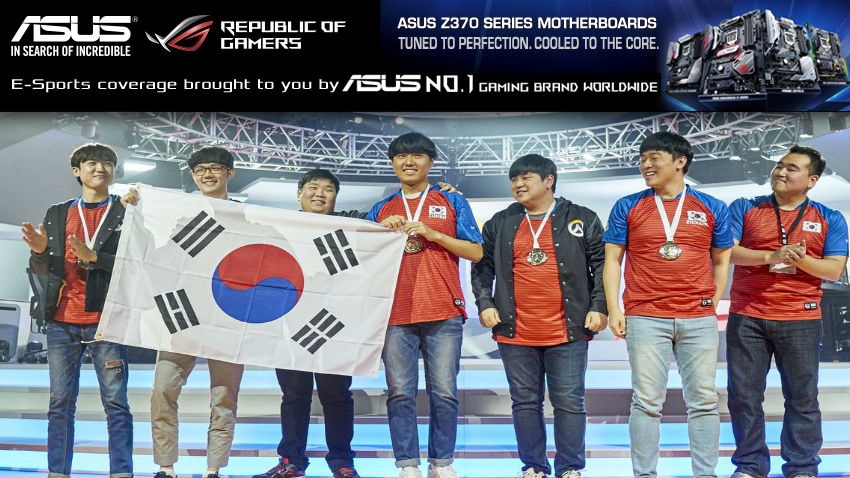 The Overwatch World Cup came to a close this weekend at Blizzcon amidst insurmountable hype surrounding Blizzard's favourite esport. The South Korean team ran a dominant campaign, but thankfully not too dominant.
They came into the competition as favourites, but their performance through the playoffs was met with some resistance sparking some incredible matches between the top teams from around the world. South Korea met their match in the grand finals against a somewhat unexpected Canadian side, while Sweden took down France 4-2 to secure third place.
In the grand final, South Korea took the first three maps rather comfortably on Oasis, King's Row, and Hanamura. It wasn't until Junkertown before Canada started to push back and secure one map the in the best-of-seven final. While Canada showed some promise, Fl0w3R on the South Korean team was the real problem. He was an absolute beast and Canada struggled to deal with him throughout the final series. Every time an attempt was made on Fl0w3R, the South Koreans would come to his aid. Fl0w3R wasn't the only problem, being the dominant DPS, but Ryujehong on his Ana also showed some incredible healing, proving Ana is still in the meta.
Fl0w3R from South Korea going absolutely nuts against North America.
The final map was Numbani where Canada used their newfound momentum managed to capture the first point and get the payload moving. Canada made it to the final parking bay despite dealing with a rather annoying Torbjorn turret on the payload, but luckily they pulled through making it 3-3 and pushing Numbani into the overtime. Canada unfortunately only had one minute on the map, while South Korea had three. They got point A, but struggled to move the payload any further. South Korea then made quick work and secured the end-zone with over a minute left and taking the Championship home.
Side note: South Korea won 5 esports titles in the span of 24 hours. The League of Legends World Championships, the Overwatch World Cup, the Hearthstone Inn-vitational, Heroes of the Storm Global Championship and the Starcraft II Championship.
Like esports?
Check out esports central
Last Updated: November 6, 2017