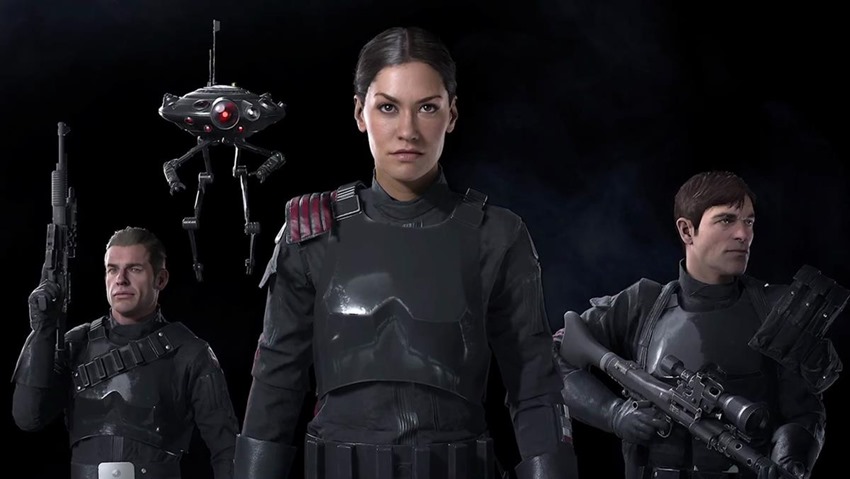 If Star Wars was real…I'd most likely side with the Imperial faction. Yes, I know that they're an evil dictatorship hellbent on bending the rest of the galaxy to their specific First Order doctrines, but dude look at the awesome armour you get that provides f***all protection against poorly-equipped rebels! Even better, the more Rebels you kill the higher the chance that you'll get your own unit to command and some of that bitchin' awesome chrome armour that Captain Phasma wore in the Force Awakens.
I have got to get me some of that. Other people might have joined the Empire for different reasons however. Some crave power, others hunger to dominate while some idealistic soldiers in Palpatine's platoons probably wanted something far more simple: Order. You'd have to imagine that any Imperial soldier who saw not one but two Death Stars destroyed by the Rebel Alliance would have a serious axe to grind. You'd be quite right, as Star Wars: Battlefront II casts you as Iden Versio, leader of the blackest and ops-iest team of special forces in the Imperial Army.
"What's really exciting about this story is that we're going to see it from an Imperial point of view from a character like Iden," LucasFilm creative executive Steve Blank said in a new behind the scenes video.
Iden is presented with an extreme challenge: The destruction of the Death Star II and the death of the Emperor. Iden is a tried and true and through and through Imperial. She's someone that grew up ona  planet called Vardos. She has spent her whole life building up to this moment, to be commander of Inferno Squad.

Hask is the most zealous of them all I would say. He's the most interested and vested in how far the Empire is willing to go. Del has seen more of the galaxy than most people in the Empire. He actually grew up on Coruscant during the time of the Jedi. Family is a really important element in Star Wars and one of the things that we wanted to make sure that we captured was the dynamic between Garick Versio and his daughter Iden Versio.
Me, I'd be a much simpler convert. Besides my hate for sister-kissing Rebel scum, I just want enough rank to earn one of those Corvette-class Star Destroyers. Yeeehaw! Star Wars Battlefront drops its fully armed and operational squad of Stormtroopers who can actually hit a target, on November 17.
Last Updated: July 17, 2017