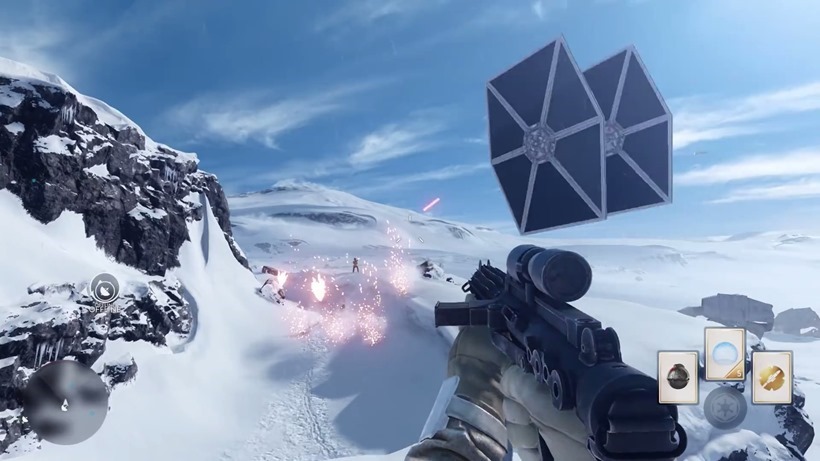 Over the past few days I've been neck-deep in work (and the rush that was rAge), but I still managed to squeeze in an unhealthy amount of time in the Battlefront beta. As you probably already know I quite liked it, but not everyone feels that way. In fact Battlefront as a whole has been getting some pretty negative feedback, which somewhat dampens the excitement over an otherwise successful beta.
The good news is that EA broke records of their own with the Battlefront beta. According to the publisher around nine million unique players across all three platforms logged on to their servers to try the game out during the limited period. EA was forced to add more PC servers shortly after launch due to demand, and as a whole, the thing went off with very few hitches. My personal experience online was fantastic, and has made me extremely optimistic about the stability at launch.
However it's not sever stability that has some fans worried. There's an overwhelming sense that Battlefront simplifies combat far too much, leading to a shallow puddle of tactical depth that players are already restricted to. The main target of criticism is the near identical basters, the little to no effect that some card abilities have and the widely unbalanced advantages the others give. There's a lot EA and DICE seemingly need to think about before launch, especially if they want a respectable percentage of beta players to actually turn into sales.
That said, it's more likely for someone to air negativity over positivity for something, so the general social stance isn't always accurately indicative of the real picture. One also has to take into account the many other fans who simply couldn't play during this small window, and how they would've reacted to the old-school gameplay.
Regardless though, it's exceedingly unlikely that these beta statistics will carry over a 1:1 ratio when it comes to raw sales figures, but it does show the power of a name like Star Wars. Battlefront is EAs biggest beta to date, and I foresee similar records being broken at launch. Because at the end of the day, people truly love Star Wars. And there's an element of rose-tinted glasses that comes along with that – for better or worse.
Last Updated: October 14, 2015