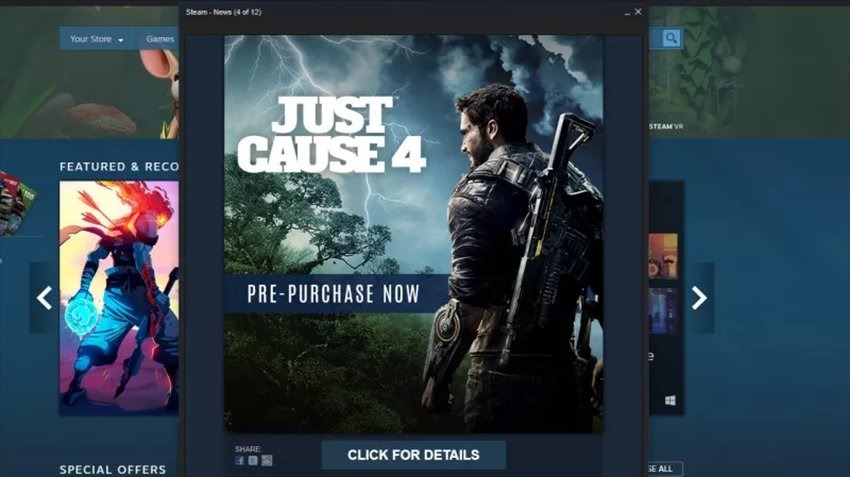 That Walmart E3 leak is the gift that keeps on giving. Many games from that leak have been confirmed, including the surprise announcement of Rage 2, a new Assassin's Creed, LEGO DC Villains and probably more. The latest game leaked in that list to be outed with a little more credence is Just Cause 4.
This time, digital games storefront Steam revealed the unannounced game in an ad that obviously want mean to go live. It confirms that Square Enix is handling publishing duties on a new Just Cause game, though it's not quite confirmed that developer Avalanche is behind it again – especially now that they're helping Bethesda with Rage, and have their own IP in the works as well.
The ad for the game (via Kotaku) gave a click through for pre-order, along with a few details on what incentives that pre-order might entail. It's now been temporarily scrubbed from Steam, and is expected to magically reappear when Square officially announces the game at its press conference next week. That presentation will take place on Monday, June 11 at 10 AM PT / 1 PM ET / 6 PM BST/ 7 PM CAT.
The last Just Cause was…well, it was okay. It clearly was as optimized for the then new consoles as it should have been, resulting in a fair number of performance hiccups. Those were the least of its problems though.
"Just Cause 3 is genuinely fun most of the time, but it's the periods where it's not that hurt it most. Add to that some mystifying design decisions around progression and upgrades, and you've got a game that attempts to go bigger than its predecessors while forgetting some of the elements that made them so good in the first place. A fun, albeit flawed game."
I'd be down for a more streamlined, better optimized Just Cause – and 4 may be it.
Last Updated: June 8, 2018