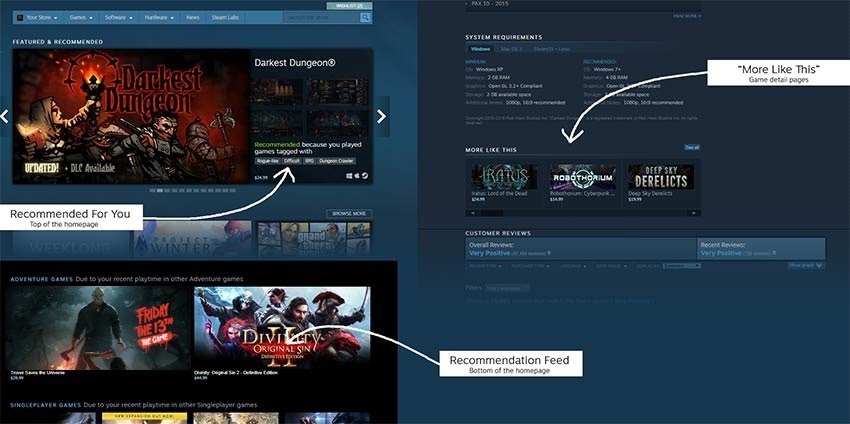 Steam's recommendation engine isn't as robust as it should be – and after years of its algorithm at work, it either recommends games with a dazzling dash of homogeny or suggests so much random nonsense that it's useless. Hopefully, that won't be the default with Steam's new recommendations update, which Steam hopes will be both more precise and more diverse – suggesting more games you'll want, from a wider pool.
"Previously, when customers would look for games by browsing the recommendation feed at the bottom of the homepage or the "More Like This" sections, they weren't seeing as many different games as we would've liked," Valve says in an announcement on Steam's big new update. "Furthermore, we were receiving lots of feedback that "Recommended for You," felt too biased towards only the most popular games and didn't feel very personalized. We wanted to determine how to respond to this feedback, so we went in search of bugs and decided to run an experiment."
So they went bug hunting, and did experiments with their algorithms for a small percentage of Steam users, finding that the new algorithm updates led to customers seeing more unique games for longer.
"Customers in the experiment group were more likely to click on the games shown in the recommendations section, at a rate almost 15% higher than the control group," they said. "The increased personalization means there is an even greater variety of games being shown in this section, and customer impressions are more evenly distributed among them.

"To get a feel for the breadth of titles that were being visited, we measured how many games members of the experiment group visited via the 'Recommended For You' section compared to a sample of customers who were not in the experiment for a few days. The results were very promising: we saw a 75% increase in the number of unique games visited, and a 48% increase in the average visits per game."
Given that developers have complained that Steam revenues have dropped considerably over the years, hopefully, this change means that people will see and thus buy more games beyond just the great big AAA blockbusters.
Last Updated: September 13, 2019