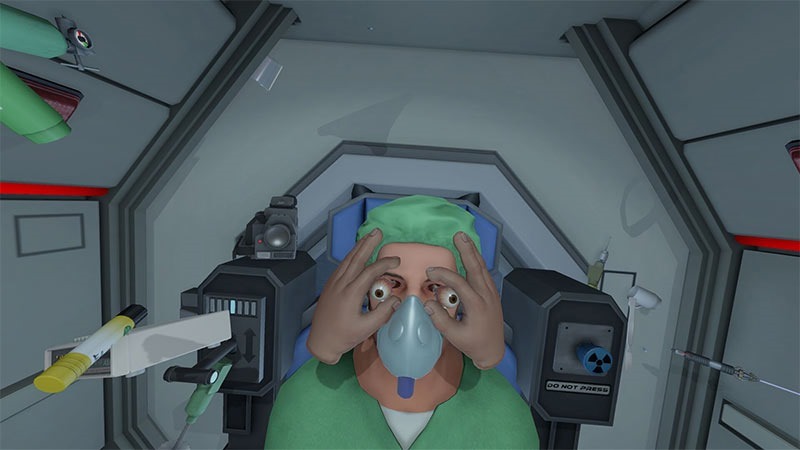 Surgeon Simulator is one hell of a silly game. Where something like Trauma Centre let would be surgeons digitally operate on people whose lives may be in danger, Surgeon Simulator veered so far left of centre that it spawned a glut of similar, parody games.
Here's what we said of the game when we reviewed it last:
Make no mistake, Surgeon Simulator Anniversary Edition is a joke of a game. But that's the whole point. It's meant to confuse players, it's meant to make you wonder if you should leave a power drill inside a lung cavity. For newcomers, I'd highly recommend the madcap game, which is packed to the gills with extras and insane details resulting in grisly deaths on the operating table. For returning fans, it might be time to move on and leave poor Bob alone on the operating table.
It's fun, it's stupid, and it's the perfect game for VR. As we've seen with other games that simulate real world jobs terribly, Virtual Reality is capable of making the mundane engaging. While Surgeon Simulator is hardly mundane, its core joke is wearing a bit thin – but that changes in VR thanks to how real it all feels. And being the worst surgeon on planet earth certainly sounds like a hell of a lot of fun.
"Bob's life is in your hands in this darkly humorous VR game, taking you closer to bloody surgery than you possibly ever wanted to go! From the operating theatre, to the back of an ambulance, to outer space, your trusting patient's welfare will be in your virtual hands.

If you've ever actually wanted to know what it feels like to delicately remove teeth from a patient using nothing but a subtle claw hammer, or to perform complex eye surgery in Zero-G, now is your chance (without all the added hassle of flashing blue lights, plane tickets, rushed flights and Interpol)."
You may even get to perform surgery on something not quite human. Take a look:
There's also a look at what it might be like in real life, but make sure you've not eaten breakfast yet.
Last Updated: December 5, 2016