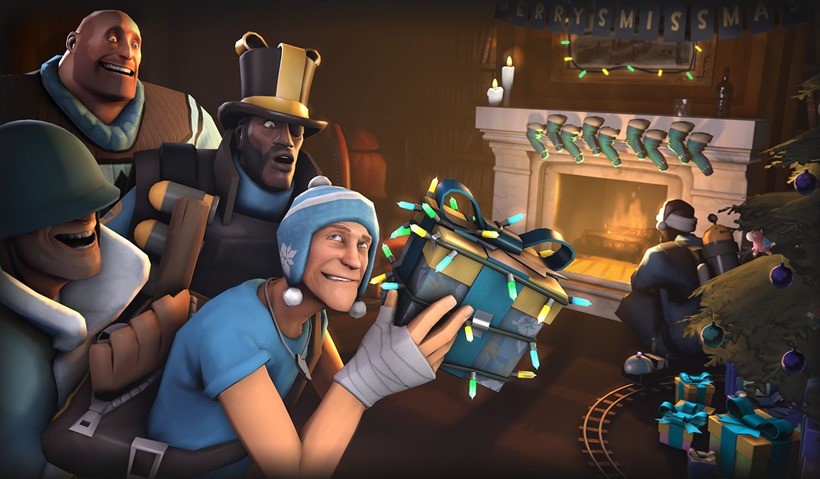 If you find your Team Fortress 2 gameplay experience is lacking lately, tough luck. There's nothing new on the horizon, nothing at all – except for perhaps this Tough Break update (via PC Gamer). It includes a bit of everything, including… Mannrobics?
Well, ok then. Moving right along, the Tough Break update also comes with 26 brand new contracts (for a small fee of $5.99). There's a new loaner program included too:
Don't have the ordinance you need to finish a weapon-specific contract? Don't worry! (Seriously, calm down.) Now you can borrow it for the duration of the contract, thanks to Mann Co's new community outreach program for wayward guns, the Loaner Program! Give double-donking a try! Lob a fresh jar of body-temperature Jarate at your enemies! Go w+m1 with the Backburner! It's like a library, but for murder accessories!
Completing these contracts will drop some pretty sweet weapons from brand new collections:
The Tough Break Campaign ships with the campaign-exclusive Gentlemanne's, Harvest, Pyroland and Warbird Collections, only available through contract completion rewards! Be the envy of your friends! Be the envy of your enemies! Be the envy of people who only mildly dislike you! Plus: Spies, Engineers and Demos rejoice! These collections also have knives, wrenches and grenade launchers!
As per usual, the Tough Break comes with some new free maps for all to enjoy. The four; Snowycoast, Vanguard, Highpass, and Landfall, are all community made. A small portions of sales contracts will go to their creators.
Lastly, there are tons of gameplay changes – far too many to list in this article. If you'd like to see them all, you can do so right here.
If you couldn't be bothered to read all of the above, then fine! Here's a neat summary of all the things the Tough Break update includes:
4 new community maps: Snowycoast, Vanguard, Highpass, and Landfall
26 new contracts, including contracts which issue loaner weapons
4 new weapon collections
2 new community taunts: Badpipes and The Bucking Bronco
1 new official taunt: Mannrobics
New community cosmetics case with 15 items
And that's it! If you're a fan of Team Fortress 2, this should be more than enough to keep you busy over the festive season. Will you be buying the contracts?
Last Updated: December 18, 2015