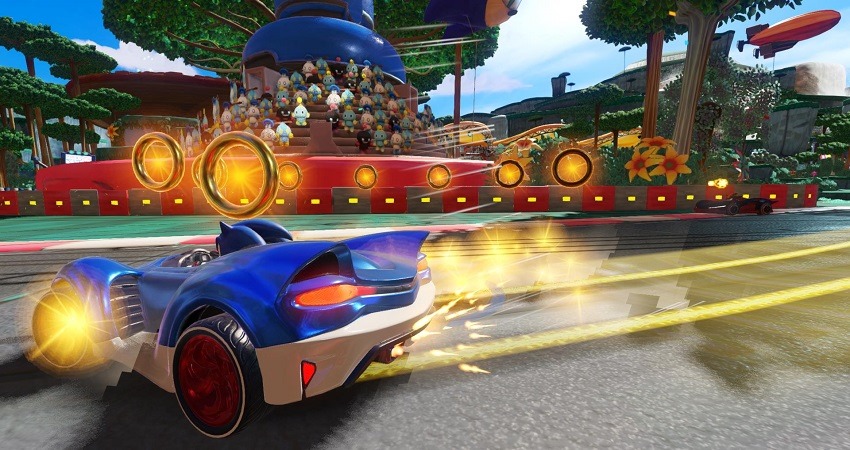 Probably the biggest unspoken secret is that Sonic actually does exist in a game that is really good. Turns out though that the blue hedgehog is slightly better when he's zooming around in a car on not on his two feet. At least if you're only taking recent 3D incarnations recently. Sonic All-Stars Racing Transformed was sublime, stepping up to the challenge of Mario Kart in a strong way. And with Mario Kart Deluxe 8 stealing the spotlight last year, Sonic is ready to retort.
Developed by Sumo Digital, Team Sonic Racing is the long awaited sequel to Sonic's karting adventures. It was leaked by Walmart (who are just spoiling every possible E3 surprise) earlier this week, and formally revealed with a trailer yesterday. There's the same high-octane racing that you remember from All-Stars Racing, now with additional team modes, new tracks, customisable vehicles and loads of edgy Shadow. Take a look.
Team Sonic Racing will stick to its name literally. Players will be able to team up with other racers in a single event, using a combination of power-ups to speed up the collective and slow down your opponents. Customisation will work in the same way as Mario Kart (and to a degree, All-Stars), letting you change the overall appearance of your vehicle independent of the character you choose. These changes will affect handling, speed and acceleration, as one might expect. Its roster isn't as expansive though, touting only 15 characters to choose from.
Team Sonic Racing is choosing a precarious time to launch though. It's slated for an American winter release, which likely means near the end of the year. It doesn't overlap with the heavy hitters like Red Dead Redemption 2 and Call of Duty, but it'd be a right shame for Sonic Racing to go unnoticed again if it's just as good as last time.
Last Updated: May 30, 2018