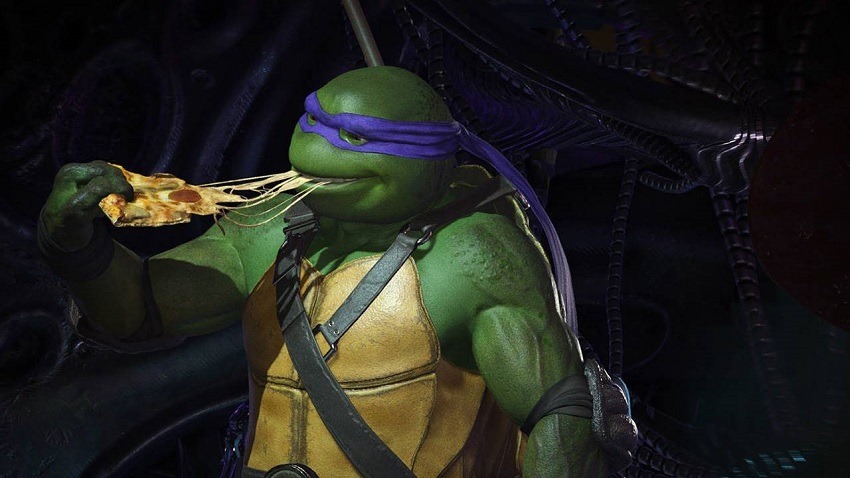 Injustice 2 has keep up the pace with a good frequency of new fights and healthy balance changes. This proactive approach to development has scored the fighting game a slot at this year's EVO, where other heavy hitters like Marvel vs. Capcom Infinite have missed out. But despite its predominantly DC roster, it's Injustice 2's alternate universe roster that is the most interesting. And with Fighter Pack #3, it's getting not one, but four big turtle personalities.
The Teenage Mutant Ninja Turtles are bursting with personality and identity, so it' good to see that translated beautifully to their individual gameplay in this first look at the team. They all seem to hit hard with a signature weight to their movements, while each of their individual weapons bring the variation they need to each bout. They look like four distinct characters when put side by side, but I'm particularly happy to see them link up for some more special attacks.
Also, is that not the best looking pizza you've ever seen? Cowabunga indeed.
How you choose which turtle to roll with is left up to their weapon choices too. Equipping them with each of their four signature weapons (that's swords, bo staff, nunchakus and sais) will choose which of them you use in casual play. For online ranked modes – where gear is not a factor – you'll have the option to choose which turtle to fight with straight from the character select screen, as series creator Ed Boon shows off in this tweet.
How will you be able to select which Ninja Turtle you wanna use? Like this… pic.twitter.com/xWI4Y8k7P9

— Ed Boon (@noobde) February 7, 2018
The Fighter Pack #3 is going to launch for season pass holders as early as next week, with the Turtles joining the rest of the fighters in the bundle on February 13th. You'll then be able to purchase them separately from February 20th, for the cool price of $15.
Last Updated: February 8, 2018