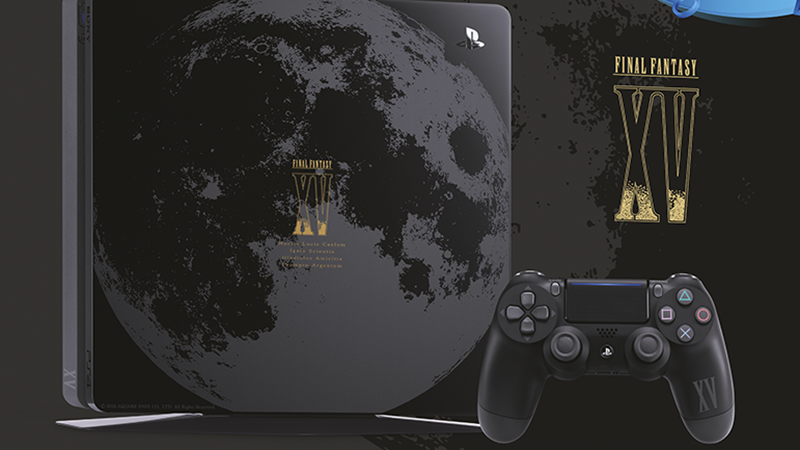 When it comes to design, I really really like the look of the PlayStation 4. It's already almost three years old, but the shape and look of the console itself is still dead sexy. It's that signature shape which will make this particular incarnation of the PlayStation brand go down in history as a winner I think, amidst a chorus of Xbox fans who are right now furiously scrolling down on this page to call me a sellout and a biased Sony fanboy.
But you just can't argue with good aesthetic design. It's possibly also why I'm in no rush at all to swap my console for the new slimmer PS4 that was recently announced. It's barely jagged enough to put the eye out of an errant child. Anyway, that console in its base form isn't exactly appealing to me. It's just missing a certain…something that I can't quite grasp fully.
But with a little bit of the materia from Final Fantasy XV, I have to admit that it does look a whole lot sexier. Check this gallery out:
The Final Fantasy XV themed PS4 Slim was announced yesterday by Final Fantasy producer Hajime Tabata at the Tokyo Games Show PlayStation conference, and I was properly convinced that it'd be yet another Japanese exclusive. Fret not however, because this design is coming west. It'll be available in the US and European territories (Hey, we're a European territory!) and it currently has a US RRP of $449. Inside that package is the 1TB console, a special controller, Final Fantasy XV: Deluxe Edition, Kingsglaive: Final Fantasy XV and some DLC.
Sony says that there'll also be a more standard version of the Final Fantasy XV bundle, that includes the regular unsexy console, a jet black controller and the game itself. Not bad. Now to figure out how to keep this absolute beauty from being a proper fingerprint magnet.
Last Updated: September 14, 2016