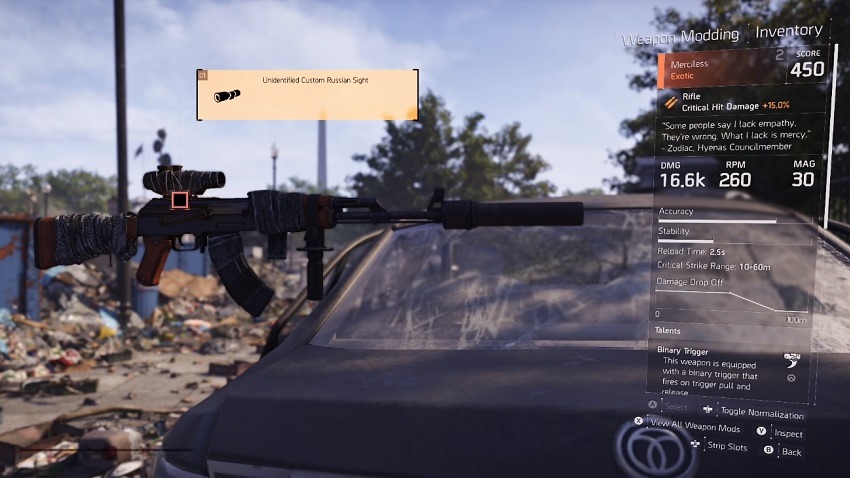 One shot, one kill. Anyone can spray 'n pray in The Division 2, and a lot of the time, it's a good strategy! But those Division agents who can take out a moving target with a single pull of the trigger? Those are the guys you have to watch out for in the Dark Zones. While marksman rifles will fulfil all of your sniping needs, there's something special about the other class of rifle present in the game.
Usually boasting a beefy magazine and a decent rate of semi-automatic fire, these are the weapons that headshot specialists favour. After all, why go for one powerful shot when you can fire five decently heavy slugs in the same window of time? The cream of the rifle crop then, belongs to the Merciless Exotic rifle. With thirty rounds in its clip and an RPM of 260, this beast can easily shoot the wings off of flies.
Here's a quick look at its stats:
Binary Trigger – This weapon has binary trigger that fires on trigger pull and release, so that's like having two shots in a single pull
Guerrilla Warfare – Pulling the trigger will fire primer rounds that stay embedded within an enemy. When Releasing the trigger, all rounds fired will be detonator rounds that detonate all primers on the enemy it makes contact with
Each primer detonated gains +75% damage per primer detonated. Only one enemy at a time can have primers and at most five of them embedded
Brutality – When holstered, landing a shot has a 5% chance to deal +20% damage as explosive damage
How to get the Merciless Exotic rifle
Random drop time! Tougher enemies are more likely to drop the Merciless, so keep on grinding away at Elites
As this is a Hyena weapon, you'll need to take on Hyena elites and bosses for the best chance at grabbing the Merciless
Merciless can drop from bosses on normal difficulty, although you'll have a better chance at Hard or Challenging modes
For the best results, tackle daily VIP missions, the Jefferson Trade Center or the Bank Headquarters missions
Rinse and repeat, and eventually the Merciless will drop
And that's all there is to it! Keep grinding and eventually you'll get one of the most powerful and bonkers guns in the entire game.
Last Updated: March 22, 2019