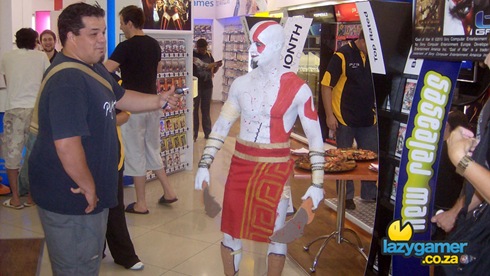 God of War III, one of the biggest games of the year for Sony is now available in stores that didn't break the release date – and as Gavin said earlier if you're a PS3 owner there's really no excuse to not get your hands on it. To celebrate the launch of such a colossal franchise, BT Games and Ster-Kinekor joined hands to host a midnight launch at many of the nation's BT Games stores.
The main launch event took place at the Eastgate concept store, one of the venues where the Kratos cosplay competition was being held. I went along, because a midnight launch for one of the year's most celebrated games, at one of the country's most prominent gaming stores, complete with a bunch of guys playing dress-up would provide quite the spectacle, right? Well, no.
For some reason, public turn out at the event was abysmal, and I can't really understand why. It's God of War, and units were set-up to play the game early – why did hardly anyone show up? The bulk of the assembled crowd was made up of journalist types and employees from BT and Ster-Kinekor. A mere handful of people were there for the game's launch and just one person attended as the ghost of Sparta , although he did a sterling job of it – and ended up winning the event's prize. Pity he didn't have much in the way of competition though.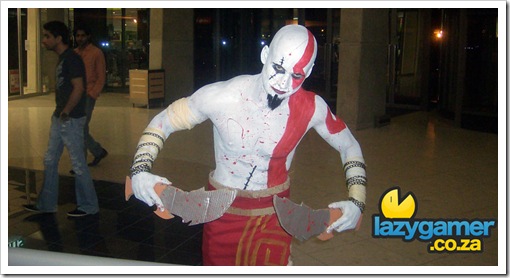 Richard Hughes, Eastgate's Own Kratos
Neither BT nor Ster-Kinekor can really be faulted, as the store was beautifully set up with some eye-catching God of War 3 displays, as well as the aforementioned demo units. Why then was the launch event itself a failure? Was there a lack of advertising for the event? Is it because a certain store released the game earlier than they should, negating the impact of a midnight launch? Are South African gamers a lazy bunch without real passion for their hobby – Or is the apathy just localised to Johannesburg?
Well, no on that one as well. Nick attended Menlyn launch which also hosted the cosplay competition – and not a single soul pitched up as Kratos. Any of you have an insight as to why?
—
Hey, Nick here.
As Geoff mentioned, I attended the launch in the Menlyn Shopping Centre in Pretoria last night and as was the case with East Rand, the turnout was pretty terrible. While a handful of people did eventually pitch just before midnight to collect their copy of God of War III, the store was pretty much empty for most of the night.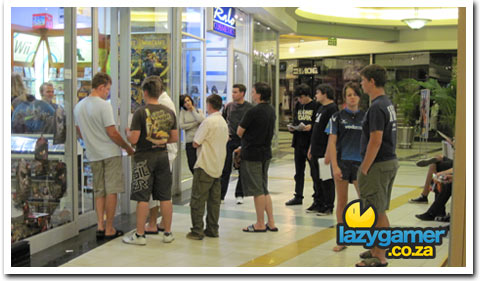 We also didn't see anyone arrive in cosplay for the competition, meaning that just one entrant here would have won themselves a prize. With such a low attendance rate at such a massive games' launch, one must only wonder if midnight launches' days are numbered in South Africa.
Last Updated: March 17, 2010