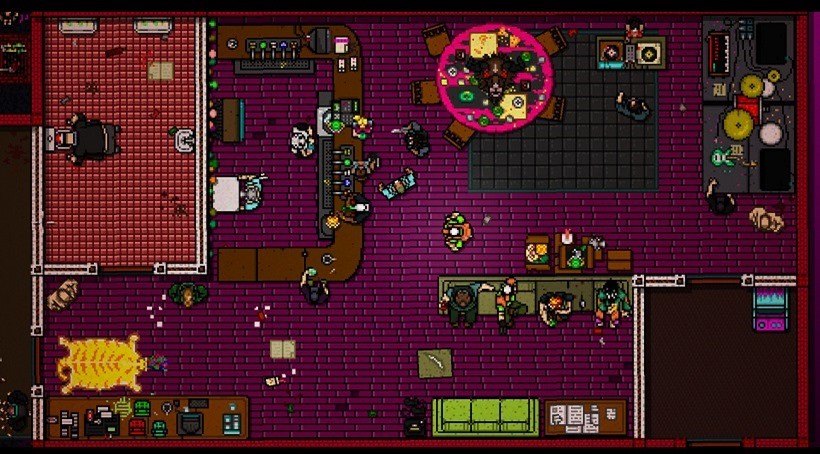 Hotline Miami 2: Wrong Number is easily one of my favourite indie titles of 2015. It was a challenging game, frustrating at times, yes, but awesome overall nonetheless. I could happily do with more of it in my life, and more is what I'll be getting soon hopefully.
No, there is no extra DLC coming to Hotline Miami 2, but rather, a level editor. It's going beta this December (via PC Gamer):
The testing period for the Hotline Miami 2 level editor with Testronic is over and we are very happy with the results! There were tons of bugs found and fixed so the core of the editor feels very stable now. While the cut-scene creator and campaign editor still have some nasty bugs, Jonatan and Abstraction are going to take care of them soon and get those features all smoothed out as well.

So without any further delay we're excited to announce: THE BETA VERSION OF THE EDITOR WILL BE UP ON STEAM ON THE 10TH OF DECEMBER!
So if you're keen on putting together your own murder levels for the top-down shooter, huzzah, you can look forward to doing just that in a few short weeks. Take note though, that it'll only be possible on PC – an editor for the PS3, PS4, and Vita, will not be available.
One feature that will be missing is a custom music editor, for the following reason…
If we let people get free music when they download levels we are viewed as a illegal file sharing tool. There is also impossible to make sure that if people added a track that the artist of that track is cool with the fact that he/she/they are in HLM
I understand that completely, but I do hope Dennaton make the game's own OST available for use in custom levels. It was amazing, and I still listen to it to this day.
Anyways, want in on the beta? Don't worry, there are no limits with regards to invites or the like. It will be made available to everybody, and will be open throughout December until early January. The final version of the editor should be out shortly after.
Last Updated: November 19, 2015