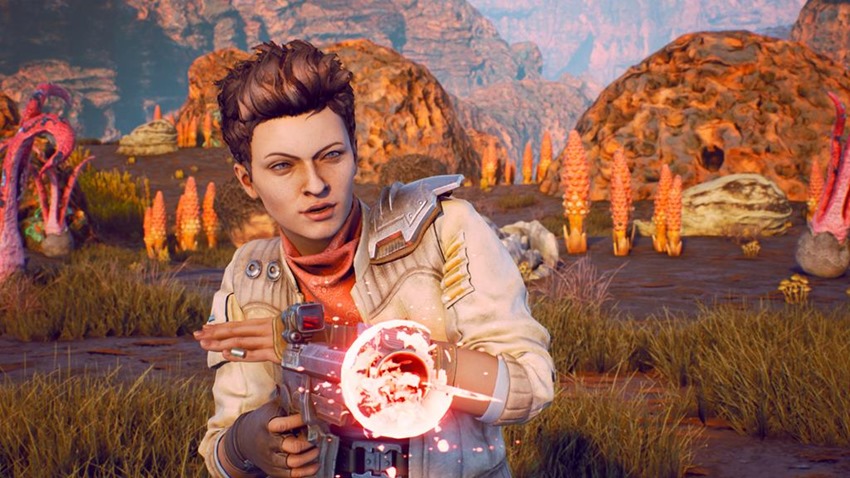 Xbox Game Pass! By now you're all aware of how it works, and while you'd think that Microsoft was paying us a handsome sum to talk about the all you can play buffet that it offers, we're actually just big fans of the service who'll talk about it even though we couldn't organise a Canary Islands bank account in which to deposit our ill-gotten booty. A currency for the less than scrupulous that we refer to as "Shill-ings".
Anyway, seven new games are headed to Xbox Game Pass console over the course of a month, and you already know what one of those games are: The delightful The Outer Worlds, a game so good that I'm throwing my recent video review for it right here because I need those clicks if I ever intend to rise through the YouTube ranks and get within eating distance of online personalities with flashy hair:
The Outer Worlds will be on Game Pass on October 25, while today will see the release of Xbox Play Anywhere title Lonely Mountains: Downhill and Secret Neighbor. Remember Hello Neighbor? Imagine that game with its creepy next-door vibes but with multiplayer. On October 24, the indie gem Minit arrives, fresh out of the recent Epic Games Store deal where the game was offered for freeeeeee.
On October 29, there's a pair of releases coming right at you: Afterparty and LEGO Star Wars 3. November 7 rounds out the fresh faces, with Subnautica rising to the surface. Try not to get the bends with this one. It has been a good month so far for Xbox Game Pass with the likes of Dishonored 2 and Yooka Laylee popping up, but World War Z is my pick of the bunch.
Surprisingly polished, fun and a power fantasy of note with friends when you mow down hordes of the undead, it's fantastically cathartic stuff in action. Hopefully The Outer Worlds and everything else being added, provide some much needed relief as the silly season gears up.
Last Updated: October 23, 2019