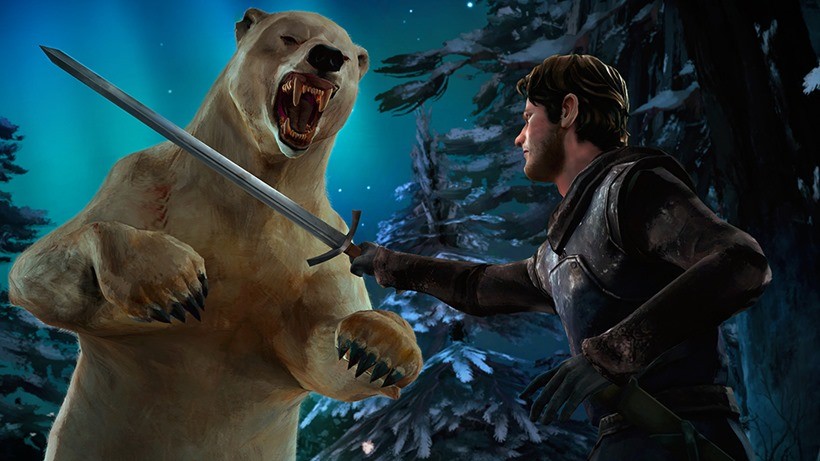 Telltale Games are pretty damn proficient at taking intellectual properties, no matter what they are (I'm looking at you Minecraft), and turning them into compelling narrative games. They did well with 'The Walking Dead' (both seasons) and 'The Wolf Among Us'. More recently, they concluded 'Tales from the Borderlands', which received critical acclaim from many. I wonder if their spin on George R. R. Martin's Game of Thrones will be as good?
We'll find out tomorrow I suppose, when the final episode, 'The Ice Dragon', releases on just about every single platform. Avoid the following blurb if you've yet to play any of the previous instalments, and would like to avoid potential spoilers:
With House Whitehill tightening its grip on Ironrath at the behest of Ramsay Bolton, the remaining Forresters must give their all to save the family, whether through diplomacy, subterfuge, or violent force. In the frozen wilds beyond The Wall, Gared learns the secrets of the mysterious North Grove, and Mira discovers that political games in a King's Landing controlled by Cersei Lannister often involve the highest stakes of all.
Having read all the books and watched every existing episode of the television adaption, I'd like to think myself a big Game of Thrones fan. I've been holding out on grabbing Telltale's game however, simply because I wanted it to be out in its entirety before diving into Westeros for its casual backstabbing (figuratively… and literal too actually), and political drama. Oh, and more stabbing. Game of Thrones has lots of it!
I've been a tad skeptical though, because reviews on earlier episodes haven't hailed it as anything amazing. I'm hoping 'The Ice Dragon' is great, and makes the whole season well worth playing.
Last Updated: November 16, 2015