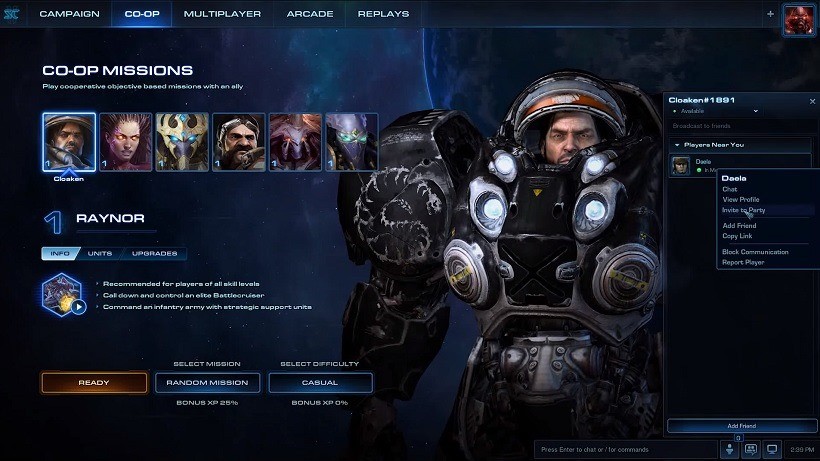 In little over a week, the last piece of the StarCraft II puzzle will be released. That's right, on November the 10, we will finally get our grimy paws on Legacy of the Void – the Protoss component of the second space RTS trilogy from Blizzard. The game will bring with it not only an epic single player campaign, but also the traditional Multiplayer experience that many will either love or hate, or love to hate.
Seeing as this will be the last StarCraft game for a good long while though, Blizzard really are going all out. They're including Archon Mode too. It's a mode where two players take control of the same army and face off against another enemy pair doing the same.
As if that wasn't enough, Blizzard are also adding what I'm looking forward to the most – Co-op Missions. In a nutshell, it's a way to experience campaign-style skirmishes, but with a friend along for the ride. Here's an overview:
Earlier in the Legacy of the Void's development cycle, this feature was called Allied Commanders. We now call it Co-Op Missions, which gives players a better idea of what to expect. Co-op missions are objective based scenarios where you and a partner will wield overwhelming power to defeat one of several epic events..

To overcome these challenges, you're going to need help. And you'll have the best of the StarCraft II Universe at your disposal. Before each mission, you'll select one of six commanders, two from each of the three StarCraft races. Each commander has a distinct playstyle and brings with them specific abilities and traits into the battlefield.

The Zerg commanders are all about controlling powerful hero units. The Terrans deploy their machines of war to do their fighting, while the Protoss take advantage of their powerful Spear of Adun and employ various orbital bombardments
I don't know about you, but I think the co-op mode really does look like a lot of fun. Blizzard are not designing it to be a once off experience either. Back at Gamescom, I had a chat with Tim Morten, The Lead Game Producer for Legacy of the Void. He said the following…
"The goal for this mode is that, unlike the campaign, we want people to live in this area and play for months, and maybe years."
I can now understand exactly what he meant. With six commanders, a bunch of unlockable abilities, and several missions and difficulties to conquer, it seems like co-op missions will be the perfect time sink for any StarCraft fan. There's something very MOBA-esque about it, which is why I'm looking forward to it big time!
What about you? Which component of Legacy of the Void are you looking forward to the most?
Last Updated: November 2, 2015