When we started The Super Lazygamer Rocket League Championship, we swore we would not lose. Heck, how could we? By the power of shoddy gaming journalism, we could type up whatever we want, claiming that we are rocket gods among cars, and nobody would ever have the guts to question these wild claims. Except, we aren't like that. Sometimes, it's good to have a slice or five of humble pie, and I tell you, we haven't stopped eating since our dramatic loss yesterday. We went up against TUBE in three epic games, and… we lost.
OH THE HORROR AND SHAME! Hand me some more pie Sandy, I have not yet had my fill. Oh, and while you're at it, take that beer away from Gavin. Pie and beer don't make for a good combo in excess.
Well played TUBE. Remember though, we are not out just yet – we will fight through the lower bracket just so we can have our revenge in the grand final. WE SHALL RESTORE OUR HONOUR AND RECLAIM OUR DIGNITY!
Anyways, drama aside, this whole tournament isn't just about us of course. What else happened over the past week? Let's take a look at the bracket: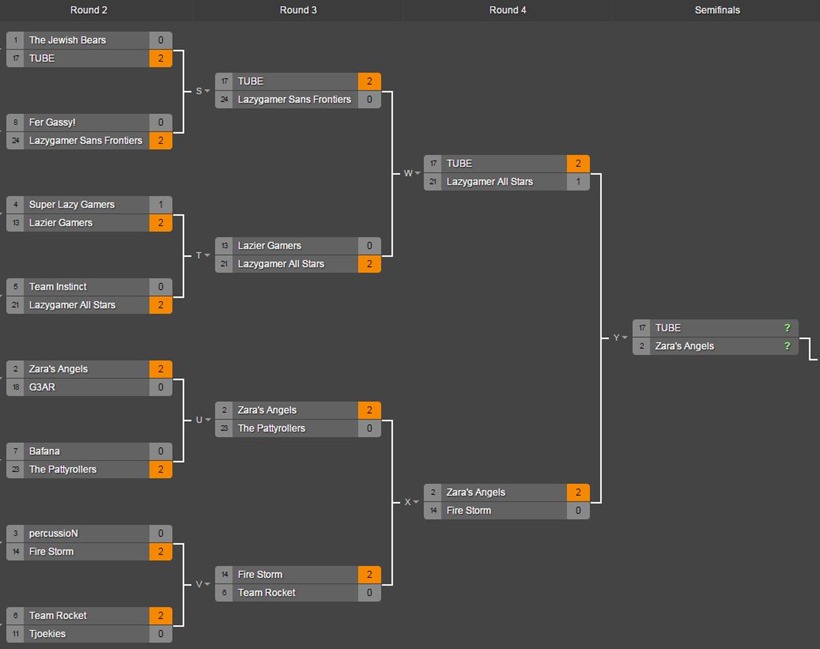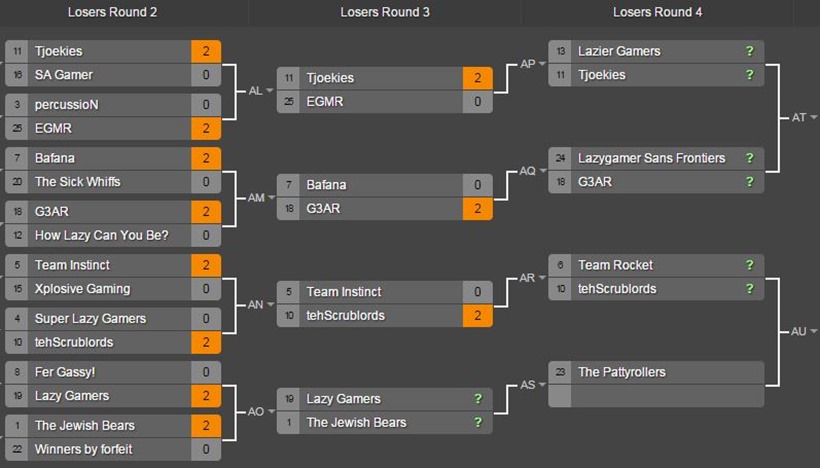 The upper bracket is pretty much done now. The only bout left is between TUBE and Zara's Angels – the winner goes through to the grand final!
The lower bracket is still nice and open. Many games need to take place before it is determined which team will be bumped up back to the upper bracket to face the winner of TUBE and Zara's Angels. Who will it be? Lazygamer All Stars of course!
These are the games that will be taking place over the next few days:
Lazier Gamers Vs Tjoekies
Lazygamer Sans Frontiers Vs G3AR
Team Rocket Vs theScrublords
The Pattyrollers Vs Winner of AO (still awaiting this result)
With rAge taking place this weekend, don't worry, I'm being a little less strict on match deadlines. As always, I will send out emails to relevant parties to ensure the matches take place.
I am hoping that closer to the conclusion of the tournament, we will be able to stream some of the games. I would love for everybody to cheer their favourite team on to victory!
Otherwise, I hope you've all been having fun. I will have an update next week with the next round of games that need to take place.
Last Updated: October 8, 2015