The more I think about it, the more I realise that living in Marvel's 616 universe would probably suck massive Fing Fang Foom balls. Think about it: You wouldn't be able to go have a coffee without needing to dodge yet another botched robbery by the Wrecking Crew or the latest extinction-level event. I mean sure, there are heroes but they're usually always outnumbered by an army of rogues and secret orders with highly-specific themes.
You thought the Serpent Society was bad, what with their scaly nature and abuse of the S consonant in their speeches? Pal, you ain't seen nothing yet. I've had 23 showers and I still don't feel clean after I got mixed up in a caper gone awry that was bungled by R.O.A.C.H. It's fortunate then that such comic book shenanigans are fictional, but there's still some catharsis to be had for slipping into some brightly-coloured spandex and leaping into the fray to save the day.
Marvel Ultimate Alliance 3 wants to be that game, as the Nintendo Switch exclusive has a simple mission: Thanos and his Black Order have come knocking and only Marvel's most bankable heroes at the cinematic box office can stop him. Here's a new trailer showing the game off in action, alongside a big surprise: Marvel's merry mutants, actually being given a chance to shine. Which probably has nothing to do with the fact that Disney owns the children of the atom's cinematic rights again.
In addition to that, Game Informer recently unveiled some details on Marvel's premiere sharpshooter, the enigmatic archer known as Hawkeye. Here's a quick look at his skill package in Marvel Ultimate Alliance 3:
Exploding Arrows – I'll give you three guesses as to what this ability does. Seriously though, Clint can fire off these firework bolts into the air and watch them fall back to Earth on enemies.
Shock Value – Good ol' fashioned taser arrows, that'll leave anyone caught by them positively shocked.
Scattershot – Explosive arrows again, but shot in a wide volley that enemies will run right into.
Piercing Shot – Hold down the button to aim, release and watch an arrow go right through enemies like a hot knife through butter.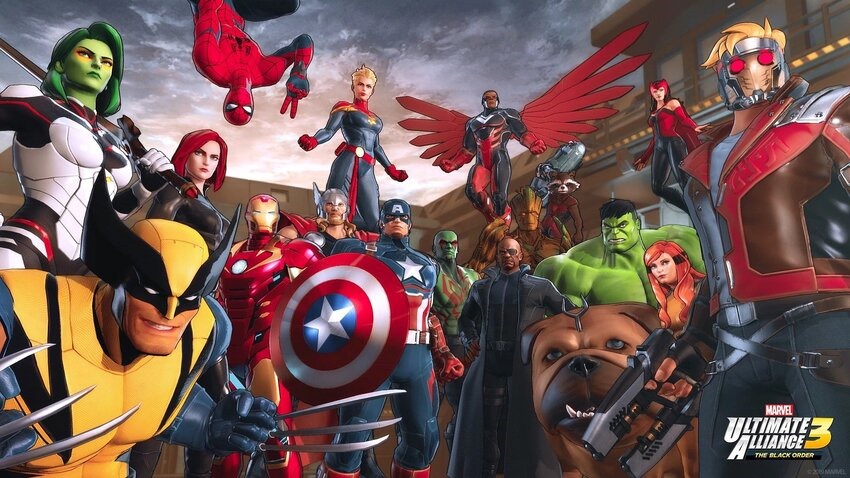 Marvel Ultimate Alliance 3: The Black Order is out on July 19 for Nintendo Switch. If it's successful, expect a DC Comics turn-based game to follow in its wake with a half-arsed take on the genre that features a Superman game model with a badly scrubbed-off digital moustache. MOUSTACHE!
Last Updated: May 24, 2019