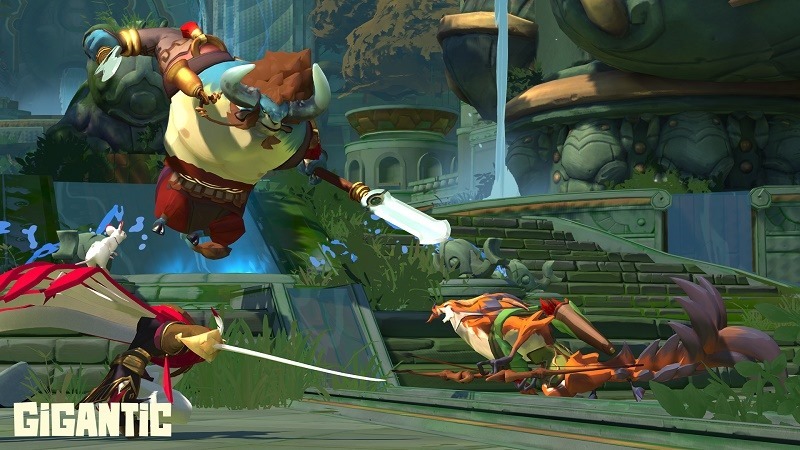 You'll be forgiven for possibly forgetting about the existence of Gigantic – an upcoming third-person MOBA from independent game studio, Motiga. The game was first announced way back in 2014, and since when, well, let's just say things have been quiet.
Gigantic is still very much alive though, in case you were wondering. In fact, it has hit open beta, meaning you can now potentially try it out for yourself.
A MOBA, a third-person shooter, an unforgettable experience, GIGANTIC is hardcore five-on-five PvP action for skilled gamers. CHOOSE from a huge roster of unique heroes, each with fantastical spells, weapons, and abilities. FIGHT against enemy teams, summoning incredible creatures to combat the foe. Race to POWER UP your team's Guardian before your enemy beats you to the five-story high punch. Fully powered Guardians GO GIGANTIC and help take out the enemy. Prove you have what it takes to ensure your Guardian rules the day.
If  you're keen to take Gigantic out for a spin, make sure you sign up for the beta here. If you're really keen to get a jump start, you might then want to grab yourself the Founder's Pack. It costs $39.99, and it'll net you:
16 Original Heroes
4 New Heroes (Released at a later date)
2 Limited-Edition "Imperial" Skins for Tyto the Swift and Charnok
2 Exclusive Founder's Profile Icons
Though I've long since fallen off the MOBA bandwagon, I do really like the look of Gigantic. Rad art direction aside, it does look like there's enough of a spin on the game to make it stand out from the crowd. Here's what Alessandro said about it back at E3 2015:
Gigantic actually looks like a game I want to dive head first into. Although structurally similar to MOBA titles, the way the game deals with it's fast and vibrant combat ensures short, frantic games that force you to juggle aggression and warranted caution in meaningful ways
My only concern is that Gigantic is a MOBA, and thus, right from the get-go, it has to compete against the other giants, like Dota 2, League of Legends, and Heroes of the Storm. Seeing as its a third-person affair though, maybe it's only competition then will be SMITE. In that regard, there's still quite a tough road ahead for Motiga I feel. Let's hope the open beta now generates enough interest to really get some momentum going.
Last Updated: December 8, 2016