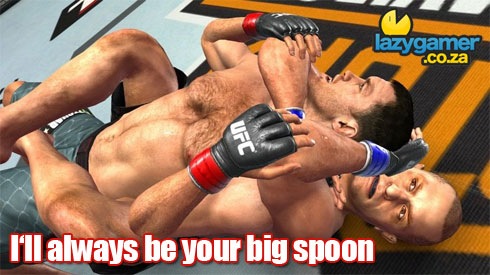 Today's the 28th of April. On the 29th, THQ will start handing out XBL and PSN codes to access the demo for the upcoming official UFC MMA-Brawler, UFC Undisputed 2010.
They won't just be handing out codes all willy-nilly though! They're only going to give them to the dedicated fans who've signed up at the UFC Undisputed 2010 community site. Good thing it's not to late to sign up now then, isn't it?
According to the press release, the demo will feature4 Light Heavyweight Fighters — Mauricio "Shogun" Rua, Lyoto "The Dragon" Machida, "Sugar" Rashad Evans and Quinton "Rampage" Jackson.  you;; be able to play either exhibition, or offline tournament Mode with your friends.
All you need to do is sign up over at community.ufcundisputed.com and you should be in line for a demo code when they start handing 'em out tomorrow.
UFC Undisputed 2010 is expected to release locally on May 28th – and remember if you pre-order at BT Games you could be the lucky winner of a trip to UFC 115 in Vancouver.
Last Updated: April 28, 2010