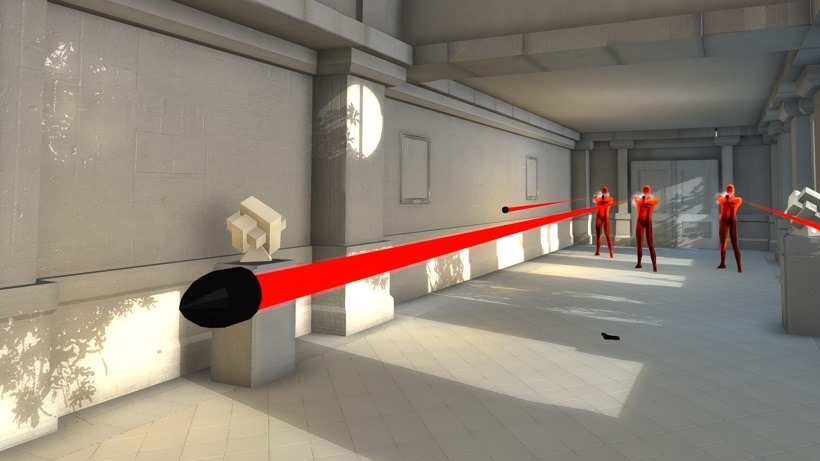 SUPER. HOT. SUPER. HOT. If you've never had those two words mercilessly ingrained in your brain, then you've probably never played a version of Superhot – the time-bending puzzle shooter that was birthed out of a 7Day FPS Game Jam a few years back. Since then Microsoft has picked it up, it successfully made it through a Kickstarter and is now soon releasing on PC and console. As in, this month soon.
The announcement was made with a new gameplay trailer, which does a good job of showing you exactly how frantic a game about freezing time can get. In superhot time only moves when you do, creating this amazing dynamic where you have to limit your movement and get around intelligently. Fail to do that, and you'll be swarmed by a flurry of bullets in no time.
Also, slow-motion katana kills!
We took our sweet time. What started out as a small passion project ended up becoming a 2.5 year adventure. SUPERHOT has far outgrown our wildest expectations.

It changed and evolved over time. It kept involving more and more people along the way. Tens of thousands of you believed in the project and supported us throughout the development. Millions played the prototype and prerelease versions, providing invaluable feedback.

Today, thanks to your invaluable help and support we're announcing an end to the long wait. A beginning of a whole new chapter.
I last played Superhot years ago when it was merely a short demo, so I'm really excited to see how it's been turned into a much bigger, challenging experience. I'm guessing time-pausing will be bent in fantastic ways, with new weapons and twists continually keeping you learning along the way. And don't fret if you don't have a PC to play on. Superhot will be out sometime next month on Xbox One too, as a console exclusive.
But if you do, then all the better. The first-person puzzler is out on PC, Mac and Linux on February 25th to round out an already extremely busy month, and I definitely can't wait for it.
Last Updated: February 2, 2016