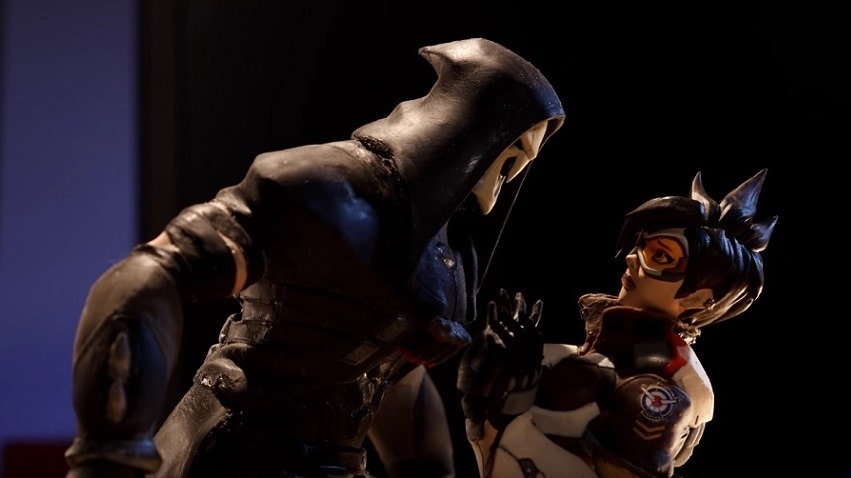 If you know anything about animation, you'll recognise the painstaking work that goes into stop-motion films. Even short ones require a ridiculous amount of time to produce well, with small fine movements being captured with thousands of photographs over and over again to produce a smooth looking final product. So while this new Overwatch short lacks the flash and fair of Blizzard's signature CGI productions, I admire it for its effort. It's also just ridiculously cute.
Celebrating the game's anniversary, Blizzard has released a short stop-motion film starring two of the game's most popular faces: The cheers luv Tracer and die die die Reaper. Tracer comes to life from her gorgeous statue (that I regret every day not buying) and attempts to bake a cake for Blizzard and company. Reaper is just there to be his brooding, skull-faced self, but his shotguns are pretty great at lighting candles. It's all too adorable.
If you're into looking at how these productions are made though, there's a separate breakdown showing the process behind the entire production. You'll also get to see a Soldier 76 come to life, who didn't make it into this video specifically. I'm all for more stop-motion videos like this, but understand that it might not be the forgiving pipeline that the CGI productions are.
Overwatch is still steaming ahead with its content, with a whole host of new skins coming to the game as part of its anniversary celebrations. Blizzard also managed to gather more than $10 million from its Pink Mercy skin, with all the proceeds heading to breast cancer research and raising awareness. Blizzard has hit gold here, and they aren't planning to stop soon.
Last Updated: May 22, 2018