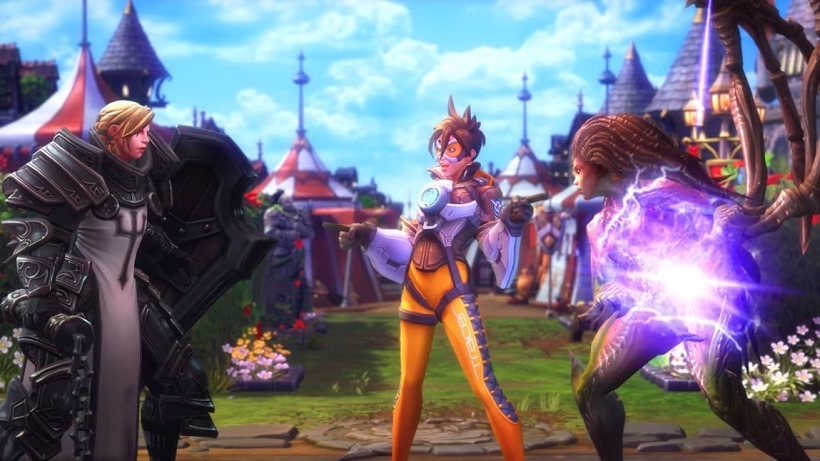 The launch of Overwatch may still be a month or so away, but one of the shooter's most recognisable characters, Tracer, is already playable in one of Blizzard's other franchises. That's right, the speedster is now available in their MOBA, Heroes of the Storm.
Tracer, the time-jumping adventurer from Overwatch, is getting ready to make her Heroes of the Storm debut! Equipped with the chronal accelerator designed by her gorilla scientist pal Winston and a pair of deadly pulse pistols to match, this highly mobile ranged Assassin zips around the Battlegrounds of the Nexus, catching enemy heroes off guard and then vanishing before they have a chance to react. Tracer brings a diverse set of unique abilities and talents into the Nexus. She can move while attacking—a first for a Heroes character—and has a single Heroic ability that she can customize by upgrading it in three different ways.
Tracer will spend this week being available exclusively to those who have already pre-ordered a copy of Overwatch. Everybody else will have to wait until the 26th before they can throw money/gold at Blizzard for access.
Need any convincing as to whether you should buy her not? Here, watch this trailer…
Being the kind of player who loves juking, Tracer looks exactly like my cup of tea. She's squishy, but completely mobile. In the right hands, she could cause all sorts of havoc! We already saw her abilities in action in her character spotlight, but here's a detailed breakdown of what exactly she can do.
Abilities
Reload (D)
You can Basic Attack while moving, and after attacking 10 times you need to reload over 0.75 seconds. You can manually reload early by activating Reload.
Blink (Q)
Dash towards an area. Stores 3 charges.
Melee (W)
Deal 557 (265 + 4% per level) damage to a nearby enemy, prioritizing Heroes. Gain 5% Pulse Bomb charge when damaging an enemy, and 10% against Heroes.
Recall (E)
Return to the position you were at 3 seconds ago, refill your ammo, and remove all negative status effects from yourself.
Pulse Bomb (R)
Fire a short range bomb that attaches to enemy units if you hit them. The bomb explodes after 1.5 seconds dealing 1226 (444 + 5.5% per level) damage to them and 613 (222 + 5.5% per level) damage to other nearby enemies.This Ability is slowly charged over time by dealing damage to enemies with Basic Attacks and Melee.
Pulse Bomb Augments
Remember, Tracer has access to her Pulse Bomb right from level 1. What she gets at level 10 instead is the ability to augment it. Here's what's available…
Sticky Bomb
Increases Pulse Bomb's radius by 50% and enemies hit are slowed by 60% for 3 seconds.
Quantum Spike
Pulse Bomb deals an additional 10% of the primary target's maximum Health.
Pulse Rounds
Increases Pulse Bomb's range and charge rate from Basic Attacks against Heroes by 150%.
Tracer really looks like a ton of fun to play! I won't be getting my copy of Overwatch until next month though, so I'll just have to wait patiently before I can play her in the shooter, and in the Nexus.
Speaking of which, which character is coming to Heroes of the Storm next? Will it be somebody else from Overwatch? I wonder if the closing of the Tracer trailer above is a very obvious hint?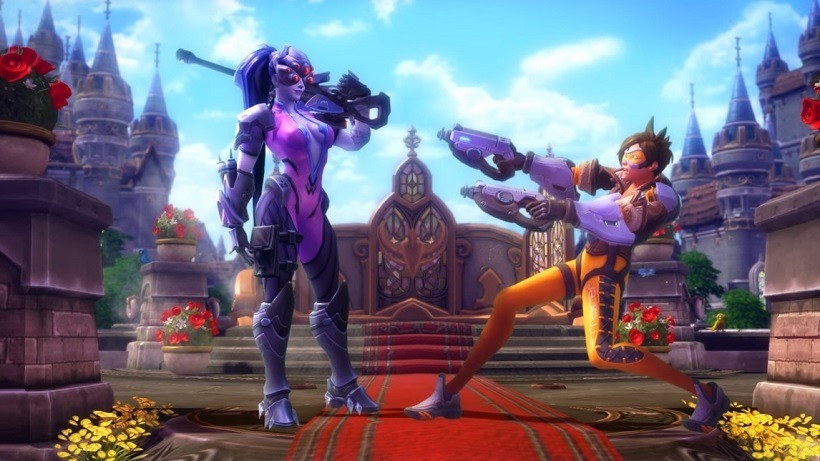 Last Updated: April 20, 2016