Twitch is known for implemented innovative ideas which grow their streaming platform. From cheering to Amazon Prime, Twitch has continued to push the bar, and their latest addition – Communities – allows streamers to create interest base communities which will include their channels.
The new Communities, which is in open beta, adds to an already flourishing directory where viewers are able to browse via channels, games, videos, and now communities. Streamers can add themselves to a community which ties to their relevant stream, for example if I'm streaming map creation in CS:GO, instead of being overshadowed by major CS streamers, I can join a creative community and showcase my design skills. The function is already live and you can see it in full effect on the Twitch website.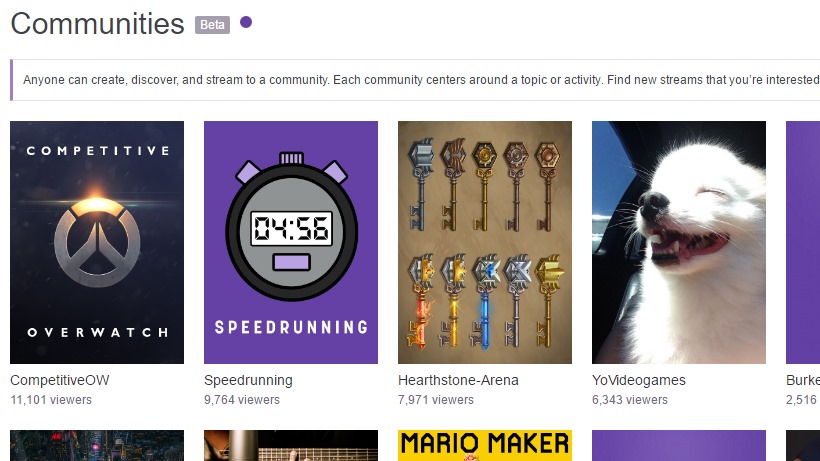 "We've heard from our streamers and viewers that they want the freedom to form specific groups, organizing around topics such as speedrunning, esports, cosplay, and painting," Sheila Raju, product marketing manager for Twitch, said in a statement.

"With Communities, we are giving our users the power to create groups of their choosing, while providing creators with another tool to expand their audiences. If you have an interest that's shared among others, Communities is where that collective can live."
"Communities" isn't only a title for this new endeavour. Each Community will be unique with their own avatar, rules, banners, and leaders. The entire subsection of Twitch will be community run, meaning the community leaders will have the power to remove and even ban channels which are not adhering to the community rules. While more communities will be made as the new feature becomes permanent, Twitch have already set up communities based on popular Twitch trends. Now you can find people eating in real life, people speed-running or even people doing normal things like cosplaying.
Last Updated: February 13, 2017