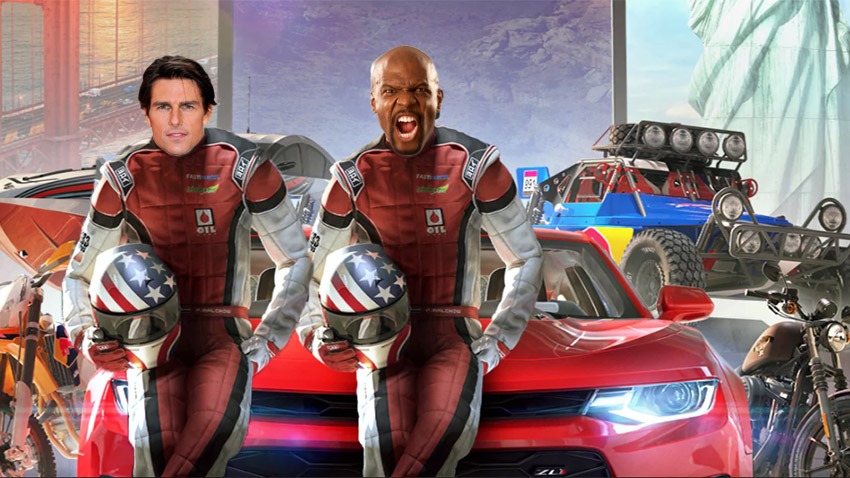 Y'know, 2018 has been off to a solid start so far when it comes to racing games. Gravel was a surprisingly solid arcade racer, Burnout Paradise is a stunning remaster of one of the greatest open world desires for terminal velocity and right now I'm wearing an utterly flabbergasted face at the attention to detail in TT Isle of Man: Ride The Edge.
I've got my money on a different game though. While firmly in favour of the good ol' arcade racer that takes place on terra firma, Ubisoft is opening the formula of The Crew 2 up to include land, sea and air in its mix. It's a racer without boundaries, that was originally due for release last year. Instead, the mad French publisher decided to shift gears back to first and stick The Crew 2 back in the oven to bake a little longer.
Well the development oven has just gone "DING", as The Crew 2 will be out on June 29 for PlayStation 4, Xbox One and PC. If you just can't wait that long, then Ubisoft's Motor Edition will give you three days early access. Here's what's included inside of it, beyond a needy speeding ticket:
The Crew 2 Gold Edition and season pass, letting players enjoy new vehicles, outfits, additional content and much more
The Motorsports Deluxe Pack, which includes unique outfits and vehicles, including the FORD F-150 RAPTOR RACE TRUCK 2017, PILATUS PC-21 AIR RACE EDITION 2002 Plane and the ABARTH 500 MONSTER TRUCK EDITION 2008
A customised American The Crew 2 license plate that comes in a high-quality collector box, an exclusive Steelbook®, the official Roadmap of the game and four original stickers
Exclusive vehicles such as the Mercedes-AMG C 63 Touring Car 2016 and the HARLEY-DAVIDSON® IRON 883TM  2017.
I just Googled that Harley Davidson bike and hrrrrnnnngghhhhhhh. The only thing that I love more than leeeeeeaaaaaaather, is a chunky fusion between a motorcycle cruiser and a cafe racer that happens to have short forks. Let me reiterate here: HRRRRNNNNNNNGGGHHHHH. So there you go! The Crew 2, now officially out this June.
I played it back at E3 last year, and I had an utter blast with it. If Ubisoft can transform it into the same kind of platform for future content drops that it has done so far with For Honor, Ghost Recon: Wildlands and Rainbow Six Siege then I'm down like a clown for that.
Last Updated: March 16, 2018