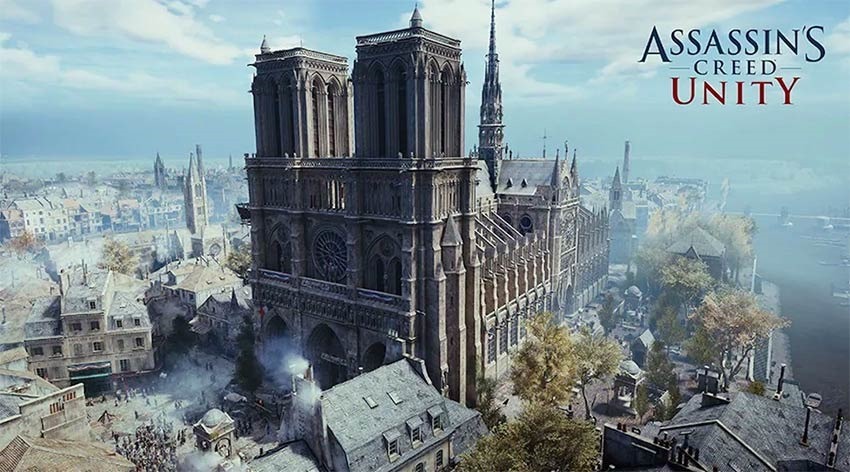 There have been numerous reports this week in the wake of the unfortunate Notre-Dame fire, that Ubisoft's Assassin's Creed Unity was going to be used to help rebuild the cathedral. This has me rankled because they all cite the same source, which offers little more than speculation.
In truth, there's no need for the voluminous, exceptional work done by Ubisoft and Caroline Miousse in meticulously mapping Notre-Dame for Assassin's Creed Unity, because there are high resolution, millimetre accurate laser scans that are far more suitable for the purpose. It's a nice little story that makes gamers feel warm and fuzzy and helps validate gaming, but it's unnecessary.
That's because Ubisoft is helping, by donating half a million euros to the restoration and reconstruction of Notre Dame Cathedral.
"As the smoke clears on the events that unfolded on Monday at the Notre-Dame de Paris, we stand in solidarité with our fellow Parisians and everyone around the world moved by the devastation the fire caused. Notre-Dame is an integral part of Paris, a city to which we are deeply connected. Seeing the monument in peril like this affected us all," says Ubisoft in a blog.

"In light of Monday's events, we will be donating €500,000 to help with the restoration and reconstruction of the Cathedral. We encourage all of you who are interested to donate as well."
On top of that, they're letting people experience the building's majesty in "the best way we know how." By giving away Assassin's creed Unity, for free. You can download it now for Uplay PC here: http://assassinscreed.com/unity-notredame/.
"Video games can enable us to explore places in ways we never could have otherwise imagined. We hope, with this small gesture, we can provide everyone an opportunity to appreciate our virtual homage to this monumental piece of architecture."
While the game was a buggy mess when it launched, numerous patches made it worth playing. I ended up enjoying Unity quite a bit, but that's probably largely because I've always been fascinated by that period in history.
Last Updated: April 18, 2019