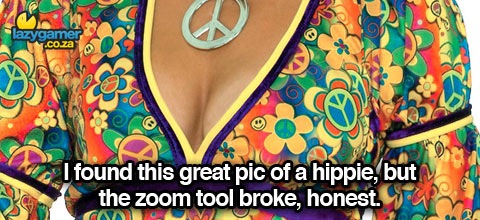 Free love, peace and saving the environment was a great excuse to smoke way too much electric spinach back in the 70's, but as you all know, the whole environment this is back and bigger than ever, minus the copious amounts of stoned naked woman running around.
Game manuals have always been there. Open your new game, look at the booklet, or don't look at the booklet, either way, it's been a part of the whole process pretty much since the beginning.
All of that is about to change because Ubisoft have now announced that they will be ditching the idea of a printed booklets and will instead be supplying the game in a digital format in the game.
Now, this really sounds nice for the environment and all, but don't think that we don't see how this benefits you Ubisoft, with the environment slipping in as a perfect excuse. I have been in the design and print industry for 9 to 10 years, and if there is anything that I know, it's that printing is not cheap.
More after the jump.
Now don't get me wrong, I'm not saying that it's a lie, I am not saying that it's actually not good for the environment, because it is.
What I am just implying is that removing print from the equations saves them money per unit, but don't expect the price to drop at all. You will already have noticed that most booklets have switched from the pretty, colourful look to a one colour greyscale print. I can tell you one thing, it wasn't done in an effort to save colours from going extinct, except maybe the green colour of the US Dollar.
So in one way, great, less paper is being used and it helps that bit to save the environment. On the other hand, Ubisoft saves money, and we don't get a booklet anymore.
I kind of like booklets, I had to pull one out the other day to find out what in the hell I was doing in Operation: Flashpoint again. (don't ask, one thing led to another and it was back in my console).
This will probably work out better at the end of the day, but only if developers do a good job of creating a decent viewing system in the game that makes it easy to navigate and read. Most control layouts are in the game now anyways, so I can see it taking a natural progression from there. It should only be a matter of time until other companies follow the lead.
What do you guys say? Are you going to miss your little paperback companions?
Here, have the official announcement:
Today Ubisoft announced an environmental initiative to eliminate paper game manuals, replacing them with an in-game digital manual for all titles on PlayStation 3 (PS3) system and Xbox 360 video game and entertainment system from Microsoft. The program, the first initiative of its kind in the video game industry, launches worldwide with Shaun White Skateboarding this holiday 2010.

Ubisoft's digital game manuals will provide multiple benefits for the player and the environment. Including the game manual directly in the game will offer the player easier and more intuitive access to game information, as well as allow Ubisoft to provide gamers with a more robust manual. Ubisoft internal data shows that producing one ton of paper used in Ubisoft's game manuals consumes an average of two tons of wood from 13 trees, with a net energy of 28 million BTU's (equivalent to average heating and energy for one home/year), greenhouse gases equivalent of over 6,000 lbs of CO2, and wastewater of almost 15,000 gallons.

"It's pretty cool that Ubisoft is making a conscious effort to go green with its new video game packaging," commented Olympic Gold Medalist Shaun White. "I'm excited for my new skateboarding game to come out and stoked that it will be the very first Ubisoft game to be part of their green packaging initiatives."

In addition to Ubisoft's efforts to decrease paper usage in its game packaging, Ubisoft has partnered with Technimark, Inc. to release the entertainment industry's most environmentally-responsible DVD case for all of its future PC titles in North America. The 100 percent-recycled polypropylene "ecoTech" DVD case will make its debut with Ubisoft's Tom Clancy's Splinter Cell Conviction PC video game on April 27, 2010. Ubisoft has featured digital game manuals in its PC titles distributed in North America since March 2010.

"Ubisoft is often recognized for making great games, but it's a special privilege to be the industry leader at saving trees," said Laurent Detoc, president of Ubisoft North America. "Eco-friendly initiatives are important to the global community and introducing in-game digital manuals on Xbox 360 and PS3 is just the latest example of Ubisoft's ongoing commitment to being a more environmentally conscious company."
Source: Gaming Age
Last Updated: April 20, 2010